Mozilla releases Firefox 14.0.1, Thunderbird 14 -- get them NOW!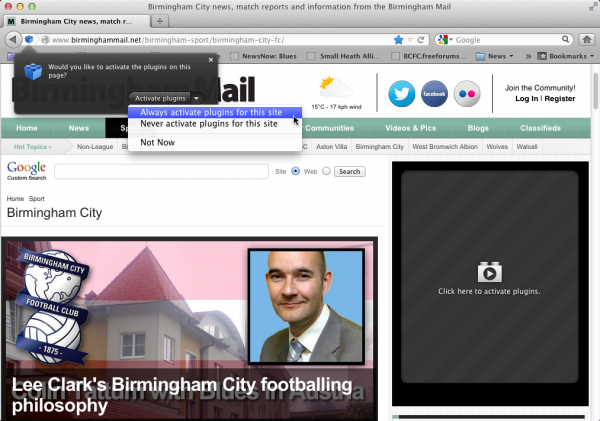 Mozilla has updated both its open-source browser and email clients with the release of both Firefox 14.0.1 FINAL, and Thunderbird 14.0 FINAL.
Firefox 14's most notable new features are the switching on of secure connections when performing Google searches for better privacy, plus an updated site identity indicator system in the Address bar. It also introduces silent updates for Windows users for the first time, while OS X Lion users can enjoy native full-screen support for the first time. Thunderbird 14 contains no new features of note, in line with its recent move to an extended support phase.
The FINAL release of Firefox has been numbered 14.0.1 to bring it into sync with the Android version, version 14.0 of which was released on June 26. It sees the new silent update mechanism for Windows users appear ahead of its scheduled release in version 15, which allows Firefox to update itself automatically and silently without recourse to the User Account Control dialogue box. The user is prompted to switch this on during installation, and it can be enabled or disabled from the Advanced section of the Firefox options dialog box via the Update tab (tick or untick "Use a background service to install updates").
Version 14.0.1 also sees Mozilla drop the Favicon from the Address Bar (instead it'll appear in the Tab) in favor of a unified approach designed to make it easier to identify a site's security status, with grey globes indicating unsecured and a choice of grey or green padlocks for websites using SSL Certificates depending on whether or not they have Extended Validation.
Users can also enable a new "click-to-play" preference for all plugins such as Flash and QuickTime to prevent them from automatically loading and playing when browsing the web. Although implemented in version 14, users must switch it on manually: type about:config into the Address Bar and click the warning button, then type click into the Search box. Finally, double-click plugins.click_to_play from the list to change its state from False to True.
Once enabled, content from plugins won't play automatically -- the user can use the "click here to activate plugins" message that appears over a plugin window, or click the plugin icon on the Address Bar to set site-wide preferences for plugins going forward.
One feature still apparently missing from version 14 is the inline site autocomplete feature, which has now slipped three times after originally being slated for release in Firefox 12. This feature would attempt to speed up browsing by anticipating what sites the user is intending to visit as they start typing into the Address Bar, and has been plagued by numerous bug reports since the feature had supposedly landed.
Meanwhile, Thunderbird 14.0 has also been released. After Mozilla's recent admission that the application is about to enter an "Extended Support Release" process (industry speak for "we're ditching development and will only provide basic bug fixes and security updates"), it's unsurprising to learn that version 14 has absolutely no new features to speak of. Nevertheless, it's an essential update for the 20 million or so users who continue to use it as their main email client.
Both Firefox 14.0.1 FINAL and Thunderbird 14.0 FINAL are open-source downloads for Windows, Mac and Linux.