CodeAcademy adds Python to the list of languages you can learn for free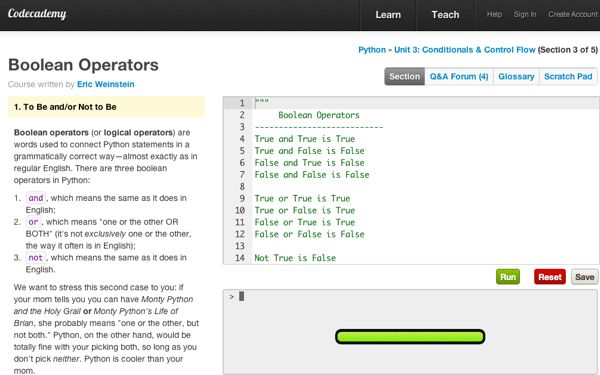 CodeAcademy, the free site for learning how to code, has just added the Python programming language to its tutorial platform.
CodeAcademy made a big impression on the Web back in August of 2011 when its cofounders, two graduates of the y-combinator startup training camp, Zach Sims and Ryan Bubinski, announced the service on the ycombinator Hacker News forum. Since then, the site has seen extensive growth, and it currently offers a few hundred exercises in HTML, CSS, JavaScript and jQuery.
While the site has a substantial list of lessons already, the inclusion of Python marks a major turning point for CodeAcademy. Co-founder Zach Sims said in the the CodeAcademy LABS blog that CodeAcademy has been "Focused on client-side languages and markup - Javascript, HTML, and CSS...this is the beginning of new language support on CodeAcademy – Python is only the first server side language you'll see."
Python programming language has been around for 21 years, and it is frequently used as part of the development framework for interactive Web applications. Python is even is one of the official five languages that Google uses, and its uses range from cross-platform scripting to powering backend services like the Google App Engine web apps hosting platform. The Python programming language is also used in a lot of NASA projects too, particularly in streamlining mission design processes.