Freshdesk's cloud helpdesk SaaS launches as HTML5 web app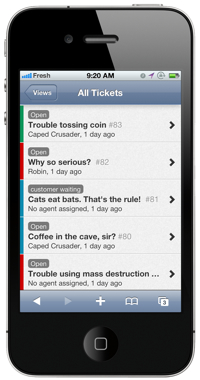 Cloud-based customer service startup Freshdesk on Tuesday announced the availability of the HTML5-based mobile app version of its helpdesk solution called FreshMobile. Like Salesforce's recently launched Desk.com mobile support solution, FreshMobile hooks up with the Freshdesk CRM system and lets agents resolve customer queries from any mobile device.
The idea behind FreshMobile is that it makes mobile support possible while working within the constraints of a mobile device. Freshdesk agents can create, save and reuse canned response templates for replying to tickets from their mobile device. The application also introduces a feature called "Solution Suggest," which uses previous activity to learn the most likely course of action on a given support ticket.
"With customer support increasingly being viewed as an integral business function, help desks need to be able to resolve issues as they happen, no matter what time of the day," says Girish Mathrubootham, CEO of Freshdesk in a statement on Tuesday. "With FreshMobile, support teams can be connected and solve customer issues in real-time, without being tied down to their desks."
Competition is the name of the game with this release, and Freshdesk's main competitor is Zendesk. Zendesk does provide mobile apps for iOS, Android, BlackBerry, and Windows Phone, as well as a mobile web interface, but Freshdesk is making the case that a universally-accessible HTML5 Web app provides a uniform experience for employees without the need to update or install anything on the agent side.