Microsoft launches the Windows Phone Development Center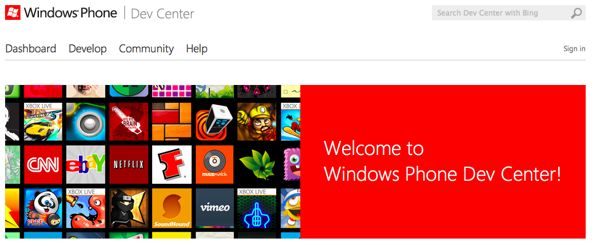 Microsoft on Wednesday announced the opening of the Windows Phone Development Center. This is good news for Windows Phone Apps developers because they now have one location where they can submit apps and get SDKs. Since Microsoft has been engaged in the development of Windows Phone apps, the one area that may have been holding them back is a unified location to make the app development process easily available.
The new site is an evolution of the previous App Hub developer portal. The new site provides everything developers need to build, publish, and manage apps for Windows Phones around the world. After engaging in planning and attention along with developer feedback, it has new features to help make Windows Phone app development faster and more profitable.
App Hub
Earlier in the year, the App Hub site had become less responsive. The certification turnaround times increased on average by about one business day running from January through late March. This reflected the growing pains that any system experiences, especially when there is a lot more activity. During those three months, for instance, the number of apps in Windows Phone marketplace grew by 60 percent, to nearly 80,000. But that was not all. During that same period, Microsoft also nearly doubled the number of customer stores around the world to 54 that sell apps. But this impact, which is good-bad news, slowed down their backend systems.
As a result, a new system was designed to take advantage of the growing support for apps, but to make the integration and sales easier and faster.
The Windows Phone Dev Center
The Windows Phone Dev Center has a clean and streamlined look with an easy set of menu options and quick links, like Submit App, Get SDK, and View Samples, which work at providing faster access to common tasks.
Developer's Heaven
Another reason for using the Dev center is that it enhances the sales opportunities for developers. The arrival of the Windows Phone Dev Center brings more markets to developers. Developers will be able to register in four times as many countries or regions than before, and also get paid in some cases three times as much as what's was possible before. Plus this year Microsoft is also nearly tripling the number of consumer storefronts around the world to sell your apps. Many of these new markets are now available, and others will be in the near future.
Payment
Then there is the pay issue. Microsoft is making it easier for developers to get paid. The Dev Center supports PayPal, which was something that many developers asked for. So if the PayPal service is available in your market, you can use it both to get paid and to pay for the developer account.
How much do you charge for the app? Well, since no two markets are ever alike, the Dev Center lets developers enter a unique price in each country or region that they plan to sell their app in. This is a new tool for fine-tuning the app marketing and profit-making strategies that developers want to pursue.
The overall effect of this is to give developers more leeway on how to push their apps out to the market, and it makes more Apps available to the Windows Phone market.