The devil is in the details of Google's free Boingo Wi-Fi deal for Android devices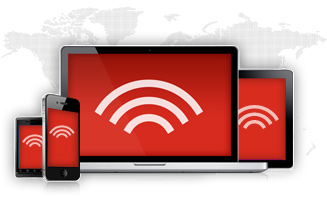 Today, public Wi-Fi hotspot provider Boingo Wireless announced a promotional partnership with Google Play that gives Android users free Wi-Fi access in 4,000 different locations across the United States (including fifteen major airports) for the rest of September.
The promotion encompasses Android-based smartphones and tablets, as well as Windows and OS X PCs, on the assumption that they can still be Android mobile device users when using a PC.
A number of sites, most notably TNW today said the promotion shuts iOS and Windows Phone out from free Wi-Fi privileges to cater exclusively to Android. This appears to be not entirely true. Many of these hotspots are already free, and all that will happen for Android users is that they'll be routed to Google Play first when they accept the free sponsored Wi-Fi connection in spots that may not be free.
Since we don't know which hotspots to check out for this sponsorship deal, and our wardriving excursion through 20 free Boingo "trusted" hotspots today turned up no new information (we assume the promotion will encompass the much rarer "certified" Boingo hotspots,) we contacted Boingo Wireless to find out what the experience of connecting to one of these Google Play-sponsored hotspots will be.
"When an Android tablet or phone, or Windows and Mac laptop user signs on to a sponsored Wi-Fi network, they will see the free offer message, and will click into it and see a Google Play branded screen. With one more click, they should be online, and will then be automatically directed to the Google Play store, where they access available free content and browse for the latest entertainment offerings," Boingo's manager of corporate communications Katie O'Neill told BetaNews on Tuesday.
"IOS and other device users will be able to access the Wi-Fi network locations included in this campaign during the sponsorship timeframe. The standard terms of access in each location will apply. For example, in locations where Wi-Fi is offered free, it will continue to be free for all users, but they will not receive the Google Play sponsorship message."
So if it's an already free hotspot, Google isn't making non-Android users pay, and Android users will be connected to Google Play before anything else if they accept the sponsored connection. So in this instance, the Android users are actually the losers in the deal. In places where the connections aren't already free, it will let Android device users step around a paywall in exchange for agreeing to go to the Google Play store or site first. There's no obligation to buy anything, or even stay.
Because the promotion is limited to 4,000 hotspots, it's really a rather small thing.