ASUS announces quad-core powered PadFone 2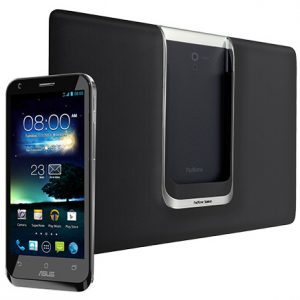 Earlier this year ASUS introduced Padfone, a smartphone-tablet dock combo designed as a solution to fit a market segment looking for a device capable of delivering the best of both worlds. Today, the Taiwanese manufacturer unveiled its successor, unsurprisingly named PadFone 2. The device comes with more power, 4G LTE cellular connectivity and redesigned tablet to compliment the smartphone part of the 2-in-1 device.
PadFone 2 packs a 4.7-inch Super IPS+ display with 1280 by 720 resolution, 1.5GHz Qualcomm Snapdragon S4 processor, 2GB RAM, 2,140 mAh battery, and PadFone 2 Station that transforms the smartphone into a 10.1-inch tablet. The dock comes with a 5,000 mAh battery quoted to deliver up to 36 hours of 3G talk-time. As for cellular connectivity, the former delivers up to 100Mbps through LTE and 42Mbps for DC-HSPA+ compatible data networks. The usual suspects, Wi-Fi and NFC, are also thrown into the mix.
The offered storage capacities are up to 64GB for internal memory and 50GB in the cloud provided through ASUS WebStorage for a two-year period.
The 4.7-inch Android smartphone weighs 135 grams and is 9mm thick, like other similar smartphones. The internal battery is quoted by ASUS to deliver 16 hours of 3G talk-time and 13 hours of Wi-Fi web browsing. Together with the tablet dock the setup weighs a decent 649 grams, with the latter having enough battery capacity to recharge the docked smartphones three times over. The phone docks on the back of the tablet, and unlike its predecessor doesn't come with a plastic cover for protection.
On the back of the smartphone there is a 13MP camera with a f/2.4 aperture, capable of up to 100 shots at a rate of six per second using burst mode, while delivering 1080p video recording at 30FPS, or a less detailed 720p video recording at 60FPS.
ASUS has yet to specify which version of Android the device runs, but it will feature a newer version of the SuperNote app, which is designed to convert handwritten notes into editable text, and the Instant Translation tool for translating words in an app, email or web page.
ASUS Chairman Jonney Shih, says: "Our relentless drive to innovate through our 'Design Thinking' philosophy has empowered us to create PadFone 2. It's beautiful, it's fast and, best of all, it's intuitive".
ASUS introduced PadFone 2 in Milan, Italy and coincidentally or not, plans to launch the device in Europe (Bulgaria, Estonia, Finland, Germany, Hungary, Italy, Poland, Portugal, Romania, Spain, and Sweden) and Asia (Hong Kong, India, Japan, Malaysia, Singapore, Taiwan, Thailand, and U.A.E) first, with extended availability to be announced further down the road.