Google Calendar releases as separate Android app -- get it NOW!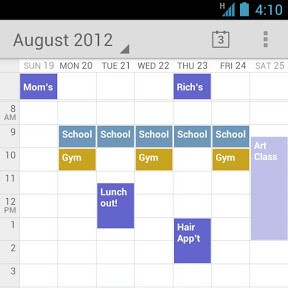 Android users running Ice Cream Sandwich and Jelly Bean can now take advantage of a new standalone version of Google Calendar. The move brings the product/service more in line with Gmail, Google Play and others that have been separate apps for some time now, and the split sees the introduction of some interesting new options that could well be enough to persuade users away from other calendar apps.
The calendar app previously was limited to a number of devices, notably Nexus, but now it is available to anyone running the right version of Google mobile operating system. While the standalone app is nothing groundbreaking, there are a few noteworthy tweaks, starting with the fact that there is now a snooze function for those occasions when you are busy with something else but still want to be reminded of an upcoming appointment.
Talking of reminders, it is very easy to configure multiple reminders for any entry in your calendar -- these can take the form of emails or notifications -- and you can also browse up to a year into the past by default. There is a lovely pinch-to-zoom option in the calendar that enable you to zoom in to see more detail on a particular day and the quick, canned responses to invitations are a great touch.
HTC users might want to hold back on the celebrations for the time being as there are problems with a number of devices at the moment with this release. This is hopefully something that Google will address in future updates, but for now you may find that certain views do not work or notifications may not sound, among a variety of other issues. These niggles aside, anyone without an HTC device is in for a treat and even HTC owners might want to get the app installed so they can be notified when updates are released.
You can find out more and download a free copy of the app by paying a visit to the Google Calendar review page.