Hulu Plus comes to Windows 8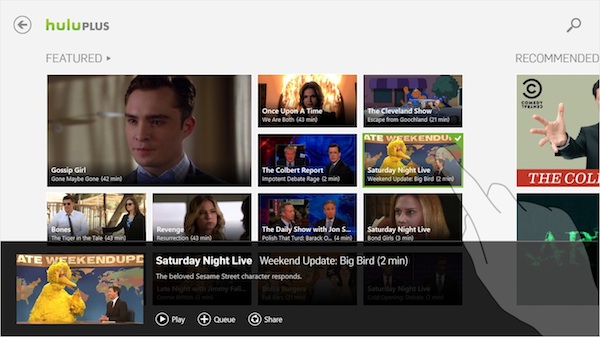 Analysts, bloggers and other pundits can't make enough predictions about Windows 8's future, whether or not the operating system launching later this week will be success, failure or something in-between. My advice: Ignore them all and look to developers. Their commitment counts, particularly when Windows goes through such major overhaul. My eyes are on those delivering services in the cloud.
Today Hulu joins a growing number of developers supporting Windows 8 and Modern UI -- what we've all come to know as Metro. Commitment from cloud service providers like Hulu is crucial to the new operating systems' consumer acceptance and is vital to the expansion into new device categories like convertibles and tablets. There is presumption among pontificating iPad idolaters that developer support for iOS is a brick wall Windows 8 and RT can't climb. Cow pies!
"The new Hulu Plus app leverages core Microsoft design principles with our touch-optimized experience", Patrick Srail, senior product manager, says. "The UI is simple and clean and puts the most relevant content first, creating a visually immersive experience in the most engaging way".
He continues: "The Hulu Plus app uses a tile-based view common to the new Windows UI. This will make it easy for you to find the latest episode of the shows you want to watch, but also to discover new ones".
Supporting Modern UI requires investment and commitment. Apple's allure is among cloud-connected devices. That cloud service providers like Hulu, or Netflix, support Windows 8 says much about future potential -- or that they see one.