Use WinMetro to bring Modern UI to older Windows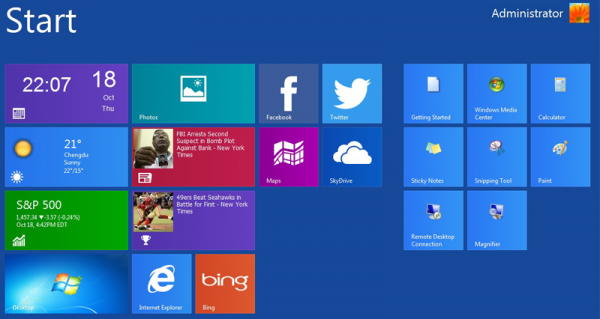 Microsoft may have changed the name of the interface formerly known as Metro to Modern Interface, but that does little, if anything, to stop consumers and software publisher from continuing to use the original moniker. As such, one of the apps that brings the look of Windows 8 to older versions bears the name WinMetro.
Regardless of the technical appropriateness of the name, WinMetro is a handy utility for anyone impressed with the aesthetics of Windows 8 but who is not looking to make the jump from the current operating system. While the tool is not a replacement for the Start menu in the strictest sense of the word -- it is not possible to remap the Windows key to bring it into view for instance --- the application is a neat overlay that brings you the look and feel of Windows 8 at no cost.
There are two components to WinMetro, the Start Screen and a side bar. The Start screen can be used to access your most frequently-used programs, but it is also home to a series of widgets. These are slightly limited, but the ability to view the weather forecast, news headlines and slideshows is an almost identical replica of what is to be found in Windows 8.
There are numerous aspects of the Windows 8 interface that are missing, but everything that is here looks great. The controls for volume look great but, just as in Windows 8, they are slightly fiddly to access. In many respects the look of WinMetro is cleaner and easier to read than Windows 8, and you might well find that it sates your interface upgrade needs until you decide whether to make the jump to Windows 8 or not.
You can find out more and download a free copy of the app by paying a visit to the WinMetro review page.