Microsoft Surface gets mixed early reviews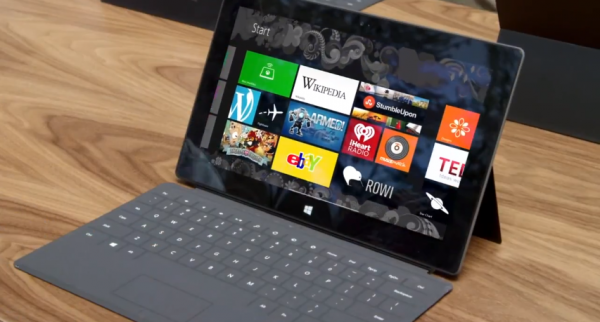 The first Microsoft Surface reviews are beginning to surface and they're a mixed bag to say the least. Since all my money is going towards a new 4th gen iPad, and Microsoft is happy to send me a copy of Windows 8, but not a Surface tablet (sorry, Surface PC), I can't give you my own insightful opinion on the device, but I can tell you what the early reviewers are saying.
And that early feedback is good (mostly) but far from being universally glowing. Pretty much all of the reviews point out the one thing we knew was going to be a problem: that there just aren't anywhere near enough apps at the moment. But there are other issues that we didn't know about, such as that it soon gets very heavy, the cameras are poor, and it can be sluggish at times. Here's just a selection of what those early reviewers are saying:
Wired. Matthew Honan at Wired likes the tightly ingrained kickstand, but queries why the small fingerhold used to open it is on the left-hand side of the device when "most people are right-handed". The touch keyboard he describes as "quite fantastic" but says it comes with a "learning curve" and took him three days to master. He's very scathing about the front and rear 720p HD cameras which, he calls junk. "There's no other way to put it. The camera has a significant lag time when you're taking shots, and the image quality looks about like the last photo you snapped with your Razr V3".
His review also notes that while the device is great for watching movies, when it comes to displaying text it's "lousy for reading when you hold it in portrait mode (just like a book!) which, to me at least, is the more natural way to hold a device when you're reading. Because it's so long, those 1.5 pounds really start to feel heavy. It gets uncomfortable quickly". He's also confused as to why the Windows RT device has a Desktop mode. "There are a handful of system applications and a suite of Office apps. But otherwise, it seems like it's just going to cause confusion".
The Verge. Over at The Verge, Joshua Topolsky notes the kickstand "has extremely sharp metal edges, which caused it to scratch a couple of wooden surfaces I found myself placing the Surface on. It's also not very useful on your lap -- unless you like to struggle". Surface's size is a problem for him too: "At 10.81 inches across (in landscape) and 0.37 inches thick, it's not really that comfortable to hold in landscape for extended periods, and in portrait it's laughably tall".
And: "After using it for an extended period of time, it's hard to imagine bedtime reading or casual throw-it-in-a-bag use for this device". Photos taken with the cameras show, he says, "surprisingly good low-light performance, but are otherwise grainy and unremarkable". But for video, the "front-facing shooter is quite good, with a very wide field of view, making for group conversations that don't require sardine-like packing of participants".
His conclusion, however, is slightly damning: "The whole thing is honestly perplexing. If this device is not as good as (or better than) the best tablet, and not a complete alternative to a laptop -- who is this for? What is it supposed to be?"
New York Times. David Pogue at the New York Times calls Surface a sleek tablet marred by clumsy software. While his review praises the hardware, he calls the preview 2013 versions of Word, Excel and PowerPoint "workable, but sometimes sluggish" and complains about the lack of apps. "There's no Facebook, Spotify, Angry Birds, Instagram, Draw Something or New York Times app. The total in the United States is about 3,500 apps so far; many are bare-bones or junky".
Like Honan he is confused by the desktop component of RT. "Both Surface tablets, and indeed Windows 8 itself, suffer from an insanely confusing split personality. Beneath the colorful, edge-to-edge world of RT apps, the menus, icons, taskbar and overlapping windows of the traditional Windows desktop are still there. On the Surface, that old desktop pops bafflingly and unnecessarily into view whenever you use the Office programs".
He also notes: "Little inconsistencies and bafflements are everywhere. Such as the way Word constantly informs me that 'there is insufficient memory or disk space.' (Well, gee, Microsoft -- whose fault is that?)".
CNET. Over at CNET Eric Franklin lists the bad points as: "The tablet has sluggish performance, its Windows Store is a ghost town, Metro has a steep learning curve, and the Desktop interface feels clunky and useless", but gives the tablet three and a half stars out of five, saying "Metro interface is innovative, elegant, powerful, and versatile. The tablet feels strong and well-built, includes Office 2013, and rich video and music services. Its keyboard cover accessories are the best ways to type on a tablet, period".
ITProPortal. Joel Santo Domingo at ITProPortal notes: "Typing on the Surface while it sits on your lap is feasible, but only just. The keyboard flap may reach to and over your waistline, which may be awkward". However, he is mostly positive, summing up his review thus: "Given the downsides, particularly the limited selection of apps in the Windows Store, we're not about to pin an award on the Surface -- but we see the device's potential".
WSJ. At the Wall Street Journal, Walter S. Mossberg describes the new tablet as "beautifully and solidly built and it's the purest expression of Microsoft's new Windows 8 touch-screen operating system". He likes the device, but found flaws with the keyboards, observing: "They are almost useless on your lap. There is no hinge to keep the screen upright and the kickstand works poorly on your legs".
He also complains about the "paucity of apps for the new touch interface", the "mediocre battery life," and the cameras which he says "took only fair pictures". He also ran into "a number of bugs while testing, some serious. All but one notable one were resolved by the time I wrote this review".
AnandTech. AnandTech's Anand Lal Shimpi is much more positive about Microsoft's tablet, saying: "Surface is very well built and extremely well designed. It's easily among the best built products I've had the opportunity to handle, and definitely puts a lot of earlier attempts from far more experienced companies to shame". His only real complaint is "you know the next iteration of the device is likely going to be appreciably better, with faster/more efficient hardware and perhaps even a better chassis".
Ars Technica. Peter Bright at Ars Technica picks up on an issue that Anand Lal Shimpi also singled out -- the power connector: "The magnets are so strong that the Surface aggressively grabs the connector, snatching it away from my grasp. It doesn't, however, seat the connector properly within its receptacle, so the system can't actually charge. I have to jiggle the thing and reseat it every time". He likes the tablet in general, citing in particular the top notch build quality and great touch cover, but does note that both the touch and type covers "have poor touchpads".
Bright also complains about the lack of NFC, GPS, and 3G/4G, saying it "strikes me as peculiar because of Microsoft's claimed goal of using Surface to provide the best Windows experience. Perhaps we can ignore NFC, but the lack of GPS and WWAN connectivity means that apps such as Bing Maps are simply less useful than they might otherwise be".
He also singles out the lack of apps as an issue: "The only third-party applications that will run on Windows RT are those that use the Metro interface and are distributed through the Windows Store. At the moment, there just aren't that many applications, and many of the ones that exist are mediocre".
So that's what the reviewers are currently saying. If you were thinking of buying Surface, have the reviews changed your mind, or are you still keen to be an early adopter of Microsoft's tablet? Leave your comments below.
If you do buy Surface and would like to review it for BetaNews -- we love reader contributions -- please contact Joe Wilcox -- joe at betanews dot com.