Get your Google back in Windows 8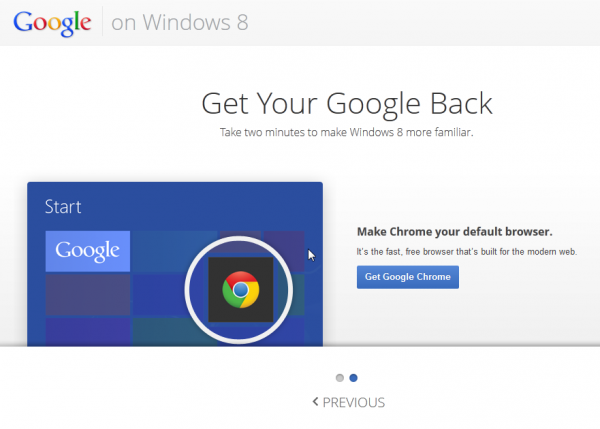 If you're the proud possessor of a copy of Windows 8, or you rushed out today to buy a brand new touchscreen device with it pre-installed, the first thing you're going to need to do is configure it to suit your needs, and install all of your favorite software.
You'll probably want to make installing a better browser a priority (no offense Microsoft) and Google has designed a version of Chrome especially for the new OS, with some customizations for touch screens, including larger buttons and the ability to keep the browser open next to other apps.
On top of that, the company has also designed a new Google Search app, with swipe-friendly search and image previews, and a new voice search option. In a particularly nice touch, the web giant's famous occasional doodles will even appear on the app's tile on the Start screen.
To help you find and install the two new apps, Google has created a simple website with downloads to both. Click either of the links to find out more about the app, or add it to Windows 8.