Google blows Nexus devices launch

If anyone should be able to handle online orders, other than Amazon, Google should be it. This is a cloud company, after all. But today's Nexus 4 and Nexus 7 sales debuts are a total bust, with countless processing errors. Google pissed off the wrong people. Blog and social network reports from the other launch countries boded ill for sales starting at 9 am PT today in the United States. Matters are much worse.
Even before the designated launch time, the costlier $349 Nexus 4 went out of stock, with many failed and successful buyers reporting multiple errors during the sales process. The $299 model shifted to "Notify Me" from "In Stock" minutes later. By 9:15 am PT neither smartphone was available, with lots of eager geeks frustrated by their unsuccessful attempts to buy a product in the shopping cart and purchase part-way processed. These gadget geeks are loud mouths and will rake Google for the fiasco launch.
Running the Hamster Wheel
My story is typical.
Sales started early, which could be praised. I discovered the Nexus devices available around 8:40 am PT and immediately began the order process. Yesterday, I reviewed my Google Wallet account to ensure that everything was ship-shape and up-to-date. So as expected, everything looked good when placing Nexus 4 16GB and Nexus 10 32GB in my shopping cart. But I immediately got an "Opps" processing error. Five reattempts, and I breezed through all the way to confirm purchase. Then Google cancelled my order.
Returning to my cart, I found that Nexus 4 had disappeared. But on the product page, Google Play listed the device as still in stock. So I added the phone again and returned to the cart, which is as far as I ever got. Twenty-three more attempts to purchase later and Nexus 4 again disappeared, and this time no longer appeared in stock. This was at 8:57 am PT. Yeah. just three minutes before sales officially started. The 8GB model remained available for a few more minutes then vanished.
Let me break the flow and apologize to BetaNews readers who waited for sales to start at 9 am because of me. I called Google Play around 12:17 am and 5:56 am PT to confirm start-of-sale time and got 9 am both inquiries, as reported in my story earlier this morning. We report what we know to be true, and nine o'clock is what I knew direct from the store selling the devices -- and that information was wrong.
After losing Nexus 4, I returned to the tablet. Another 18 attempts later, Google let me buy, at 9:11 am PT. Maybe. On the order number confirmation page came message: "problem processing your order". I mosied over to Google Wallet and saw the order there, and Google charged my credit card. But not until I started this paragraph did Google send email confirmation -- 9:49 am PT. Disgruntled at having both items in my cart, within reach of my greedy, grubby hands, I'm half a mind to cancel the order.
The Natives Rebel
Now comes gadget geek wrath, and, whoa, some people are pissed. Enthusiasts are any company's best marketers, but they also can be the worst when passion turns to anger. Reactions henceforth come from Google+.
Media guru Jeff Jarvis: "DAMN YOU GOOGLE! I made many, many, many tries to buy a Nexus 4. Finally got to the final screen. Then YOU crashed on me again. How can you be so good at so much and so utterly shitty at running a damned store? Grrrrrrrrrrrrr". Jarvis posted at 9:05 am, so eight minutes after I saw the device out of stock.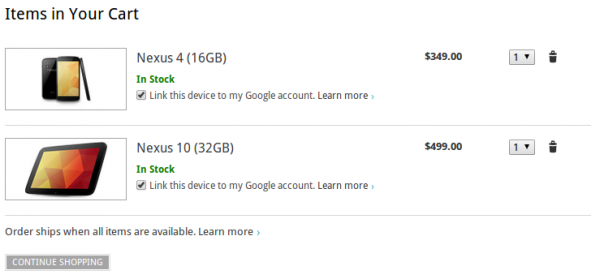 Like me, Frederic Floyd "was on there 20 minutes before official time". He got "same errors, then gone". Santiago Dominguez "had same issue in UK all morning, then they sold out. :(" 
Eyal Sivan: "This is now officially the worst product launch in history". I wouldn't go that far. Sivan's story says much, though. In part:
1) Like many of you, I was shocked by the launch time, especially since Google support clearly stated at 12:01 am PST that it would be available at 9 am PST, NOT 8:30 am. So either they were given misinformation to pass on to customers, or somebody pulled the switch early. So either they're mean or incompetent.

2) Also like many of you, when I started placing my order (some 7 minutes too late), I got errors upon errors. Sometimes I would get to the cart, sometimes not. On one load of the cart, it informed me the 16GB was sold out, so I had to switch to the 8GB. A couple of times I made it to the wallet, but got even more errors. Finally I successfully hit the 'Accept and Buy' button, and it said 'Your purchase will complete momentarily'. That's where it still is. No order number, no confirmation.

3) So I called Play support. While the rep was very nice, she had absolutely no information. All she could tell me was that my order had not gone through because there was a 'glitch' (which I already knew), and that I should wait for my email notification (which I don't believe anyone, anywhere has ever received). After speaking to her supervisor, she also assured me that more would be available later today (which I assume is more blatant misinformation), but she could not tell me a specific time (and even if she did, who knows if it would be true, as the last one was not). So I opened a case, and am (somewhat) expecting a call back from the supervisor.

I would understand this kind of debacle from a hardware vendor like Samsung or a store like Best Buy, but organizing information is what Google is supposed to do better than anyone in the world.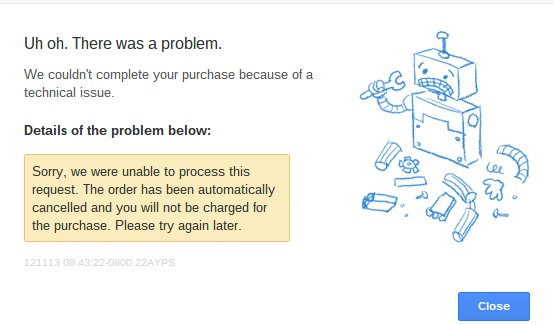 Carl Sims is angry: "It's bullshit that a company with the computing resources that Google has can't manage a damn online store without folding like origami. Normal presales would have prevented this crap". Sims says "ordering a Nexus 10 wasn't a problem for me. The 4 was a different story". I found it easier, but by no means good.
Charles Bovet makes another point: "Thank you Google for never 'Notifying Me'". I submitted my email address, too, to be notified. Got nothing yet, and the phone is sold out. But wait! Just as a nearly finished my final proofread before posting, Google sent email at 10:44 PT: "Nexus 10 is now available for purchase".
Strangely, and perhaps this is good for Google, the people who actually ordered the phone are really happy -- and I assume more so because they succeeded where so many others failed.
Jordan Schnaidt is among the lucky ones: "Got that about 10 times. Got the order screen three times. Got to Accept and Buy once, and the money's now gone from my bank by Google. So I think I'm okay". Schnaidt later received email confirmation.
Unbelievably, there already is a Hitler parody. He missed the Nexus 4, too.