Passwords Plus cross-platform password manager finally comes to Android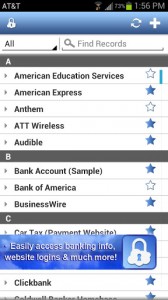 DataViz Inc. on Monday launched Passwords Plus on the Android Platform, making Android the fourth platform for the password management software behind Windows, Mac OS, and iOS.
The functionality of this app should be quite clear from its name. Over in our Fileforum, we have literally hundreds of this type of application for Windows, Mac, and Linux-based platforms, and they all conveniently have "Password" in the name. There should be no surprises.

Passwords Plus is available for smartphones running Android 2.1 and up, and it stores PINs, passwords and "other sensitive information" in 256-bit AES encryption, syncing between multiple devices and platforms. Data is synced via DataViz's secure cloud storage and SamePage technology.
Additional features of the app include a "Generate Password" feature which generates a random strong password and syncs it to all of your devices so you don't actually have to remember it. The app also includes a self-destruct feature which erases all stored data if multiple wrong passwords are attempted and rejected.
The app is free, and the service is free for 30 days, then users must make a $9.99 in-app purchase to buy the app's full functionality.