Cloud video editor WeVideo launches new simple UX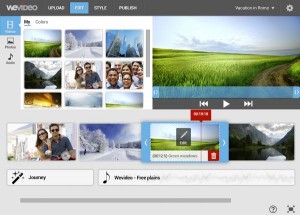 WeVideo on Tuesday unveiled an all-new mode for its video editing Web app geared toward the casual video shooter with little editing experience who needs to do quick and simple edits and share them on social media sites.
We first looked at WeVideo's freemium Web app when it launched last year. That app is still around in mostly the same form, only now it's known as "Timeline Mode." It lets users edit video and audio clips with stills, titles, and effects like one might expect from a free video editor.
The new interface is known as "Storyboard Mode," and it lets users simply drag and drop their video clips in sequential order, pick a soundtrack, apply a pre-designed theme, add titles and effects, and link the finished product to social sites such as Facebook, Twitter, Flickr, and Instagram, or to cloud-based storage like Dropbox and Google Drive.
And because it's totally web-based, it's also tied directly into YouTube or loaded into your Chrome/Chromebook start page and your Google Drive.
The Chromebook and its audience of casual (and non-tech savvy) users definitely stands to reap the most benefits from this update.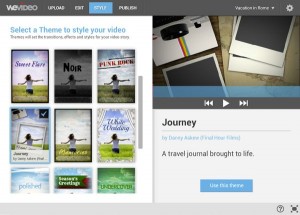 WeVideo is still a freemium application, meaning exported videos are only available in 480p unless users pay a fee for 720p or 1080p output.