Redesigned SoundCloud comes out of beta with beefed up user engagement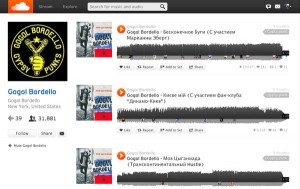 Social audio-sharing site SoundCloud announced on Tuesday that the beta of its redesign is complete and that "Next SoundCloud" is now welcoming users from the public.
The redesign was first rolled out in private beta last May, and SoundCloud says it has helped increase user engagement by as much as 30 percent over the previous version.

What does that mean? For musicians, podcasters, and audio creators, it means quite a bit, actually. When a user navigates to one of the redesigned SoundCloud sites, they listen to 30 percent more sound (music, audio, whatever) than they did on the classic sites. Generally speaking, it's an update to the aesthetic of the site that propels increased usage.
For the listener, the interface is simpler, the social aspects are less intrusive, and playback is continuous. For the sound creators, social updates are in real time, and deeper integration with Facebook lets users turn their Facebook "likes" into listens.
What's more, on Thursday of this week, SoundCloud will be rolling out the redesigned user experience to iOS and Android-based mobile devices as well.
The new SoundCloud is available to all users now, but the site appears to be under heavy load this morning, as pages frequently timed out in our tests.