Microsoft opens the door to its Socl network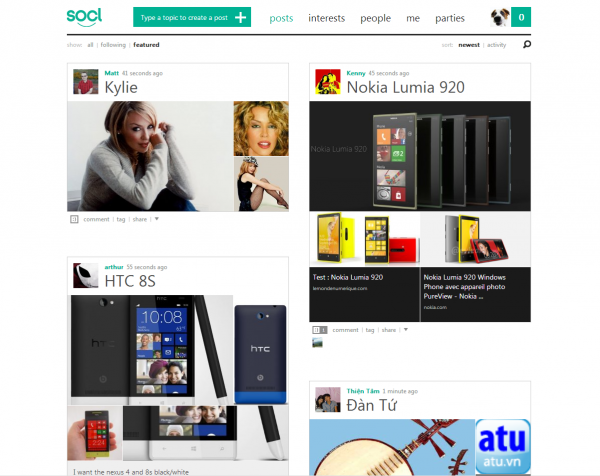 I know what you're thinking. There just aren't enough social networks. Sure, there's Facebook, Twitter, Google+, Pinterest, Instagram, LinkedIn and MySpace, but what the world really needs is one that bills itself as an experiment in social search, right? Fortunately Microsoft's Fuse Labs has been working on such a project, and has finally opened its endeavour to the world.
Socl (pronounced "social") was launched quietly back in May, as an invite-only offering for students. It was described then as an "experiment in learning" (which is hardly the sexiest of taglines) but from today the site is open to all, and if you're the sort of person who appreciates seeing slightly raunchy animated GIFs of Katy Perry, or still enjoys all things Gangnam Style, you're going to love it.
The idea of the site is to provide a place where users can "express and share ideas through rich post collages comprised of images, links, captions and videos". Collections of Katy Perry animated GIFs for example. Getting started is very easy -- you can sign in to the site using either your Facebook or Microsoft credentials, and then use the post creator to find interesting content on the web to share.
Say you want to create a post on your favourite tech news site. You'd click the green box, and type in "BetaNews" Socl will search the web through Bing and find images, links, videos and news relating to that topic. Clicking on any of the items will place it on the left, and you can begin to build up a collage by adding other items. When you're finished you can change the title, if you wish, add a caption and tags, and post it.
People who see your post can comment, tag or share it via Facebook, Twitter or email. You can get a direct link to any post to share with others, translate it into a different language, report it as inappropriate, or hide it. Users can also start "riffs" which are sub-conversations that can be tangentially linked to your original post.
Socl lets you explore posts, view and follow topics and people, customise your profile and join video parties -- where you watch videos together with friends, chatting in a sidebar as the media plays. You can sort posts by newest and activity, and search for something by name.
Among all the craziness and animated GIFs, Socl is actually a pretty interesting site, with lots to offer and is particularly well suited to viewing on a tablet. Some users post just the one image, while others create curated selections not unlike Pinterest collections. Others, naturally, chuck in everything they can find.
The site is fun, fresh, and certainly appealing, but whether it can have the impact it needs to compete long term with the likes of Pinterest, Instagram and the rest, remains to be seen.