Twitter adds regional Trends for 100 new cities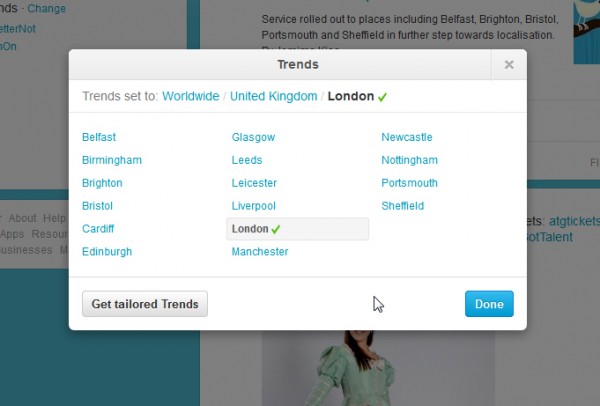 If you want to know what people are talking about on Twitter, you just need to check what's trending. Twitter automatically generates Trends using an algorithm to identify topics that are breaking, and from today the site is adding 100 new cities from around the world to its regional options, including 12 in the United Kingdom.
The new UK cities are Belfast, Brighton, Bristol, Cardiff, Edinburgh, Leeds, Leicester, Liverpool, Newcastle, Nottingham, Portsmouth and Sheffield (Birmingham, Glasgow, London, and Manchester have been available for a while). Other new global locations include Istanbul, Turkey; Frankfurt, Germany; Guadalajara, Mexico; and Incheon, South Korea.
This latest update brings the number of available trending locations to 200, giving users the chance to find out what news is breaking closer to home, what's going on in their area, and to get involved in conversations on local topics.
You can switch to any of the local Trends by clicking "Change" in the Trends bar.