Apple Maps guides Australian motorists into 'life threatening' situation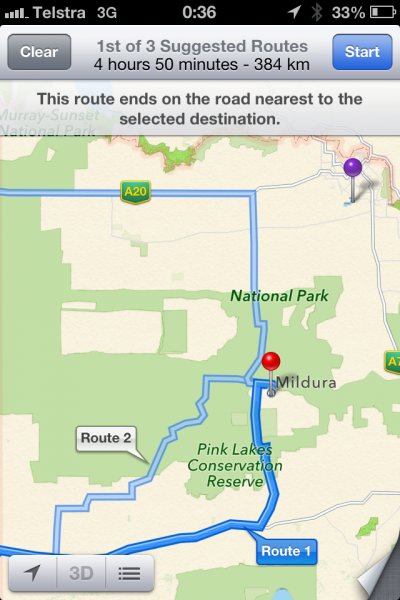 Apple's replacement for Google Maps isn't the most reliable of mapping apps, especially outside of the United States. The first time I used it, requesting directions to Blackpool on the north-west coast of England, it sent me to the south coast, some 248 miles the wrong way. Of course, I didn't actually make that journey, but had I been visiting from outside of the United Kingdom, and knew no better, I would have been in for a very nasty surprise if I'd followed the app's directions. But at least I wouldn't have been misdirected into a potentially life threatening situation, unlike some motorists in Australia.
Victoria police have been forced to issue a warning after Apple Maps routed a number of motorists off the beaten track and into the middle of a national park with no water supply and where temperatures can reach up to 46 degrees.
According to the warning: "Local Police have been called to assist distressed motorists who have become stranded within the Murray-Sunset National Park after following directions on their Apple iPhones. Tests on the mapping system by police confirm the mapping systems lists Mildura in the middle of the Murray Sunset National Park, approximately 70km away from the actual location of Mildura".
Some of the motorists were reportedly stranded for up to a day with no food or water and have "walked long distances through dangerous terrain to get phone reception".
The police say they have contacted Apple on the matter, but that anyone travelling to Mildura or other locations within Victoria "should rely on other forms of mapping until this matter is rectified".
To be fair, anyone travelling anywhere, should just rely on other forms of mapping -- it's safest all round.