Schedule actions on your Android device with Silence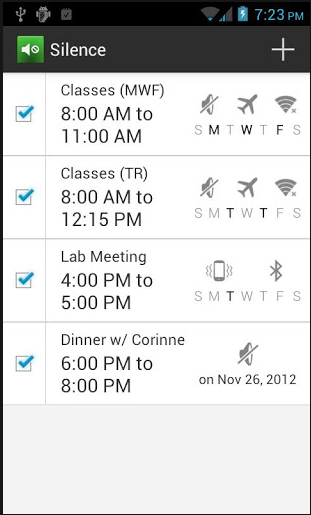 Even though mobile devices play an ever-increasing role in our digital lives, on more than one occasion they can act counterproductive, delivering noisy notifications or consuming too much battery life. With Silence, however, Android users can take control of their devices, scheduling the usage of built-in functionality like vibrate or airplane mode.
Silence basically allows users to enable or disable commonly used connectivity options such as airplane mode, Bluetooth and Wi-Fi, as well as set the ringer to silent, vibrate or normal, all within an established period of time. Each of the available options can be individually controlled, meaning that airplane mode can be enabled at night to preserve battery life, or silent mode can be activated during working hours so as to not disturb co-workers.
The app is fairly easy to use and comes with a straightforward user interface. Users only have to input the name of the event, add the time-frame, choose whether it's a repeating event or not, and select the date. They can then control the available "Toggles", and hit "Save" to enable the task.
The app runs on Android 2.1 Eclair and newer. However, for the second Jelly Bean iteration (Android 4.2) the app is unable to control the airplane mode, due to an apparent software limitation.
Silence is available to download from Google Play.