Track Santa from your Windows 8 device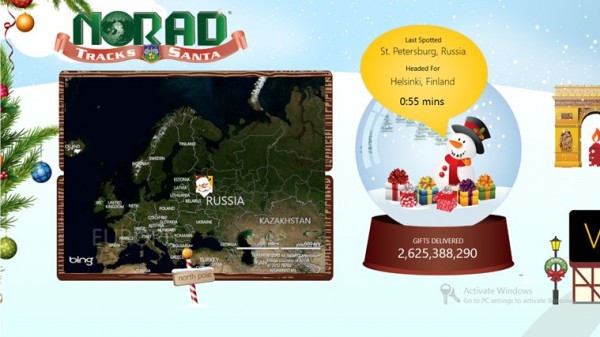 NORAD, the North American Aerospace Defense Command, has been tracking Santa since 1955. In the old days, it was an AM radio broadcast that began on Christmas Eve and purported to track the jolly old fellow as he left the North Pole and began his flight around the world. With technology's advance, NORAD has also pushed into the future.
These days, you can keep up with Saint Nick's journey with more than just a transistor radio. There is a special website and even mobile apps for iOS and Android that allow parents and children to track Santa's flight.
For the Christmas season this year, there is also a Windows 8 app.
The real excitement of the app may not begin until December 24th, but it is more than just a radar tracker. You can view a countdown of how much time is left until the reindeer take off, watch videos and holiday greetings, and you can even "Learn about how and why NORAD tracks Santa."
The app is produced by the agency themselves and is free to download and install. It is currently in version 1.0.0.22. Of course, for all of those Windows 8 computers that will be under trees on Christmas morning it will be a bit late for this app.