Freemore Audio Video Suite -- a one-stop shop for all your media conversion and editing needs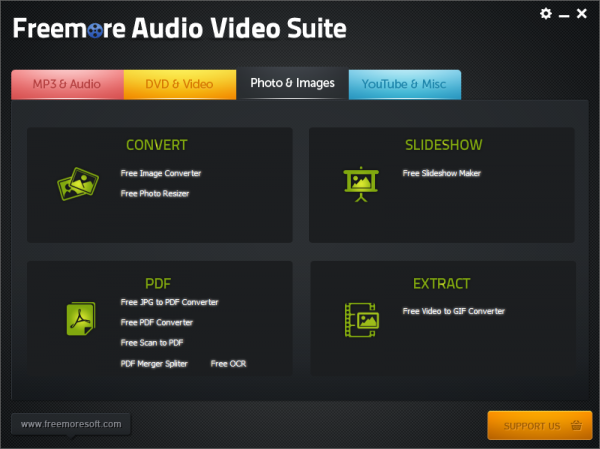 Working with media files generally requires a whole library of software: download tools, editors, authoring applications and more. That's not a problem if you've built up your own collection of favorites over a number of years, but if you're a PC novice then it's not easy to know where to begin.
But that's where Freemore Audio Video Suite comes in, as the package claims to include a host of tools to help you create, edit, convert and share your media files, and all for free.
Sounds great, and the suite started well with a simple installation, involving no adware at all. There are no nag screens, either, no pop-up web pages with upgrade "offers", no marketing tricks or annoyances of any kind.
Launch the program and you'll find a simple interface, where its various functions are organized into four areas: MP3 & Audio, DVD & Video, Photo & Images, and YouTube & Misc. Accessing these then reveals further options -- editors, converters, splitting and joining tools, more -- and clicking one of these final links will then launch the relevant program.
There are some very capable tools here. The Audio Editor opens a good range of formats and has plenty of effects and options, for instance. While a versatile conversion app supports all the main audio and video formats, and can create files specifically for a range of devices.
The Sound Recorder and Ringtone Maker modules also perform well. There's a simple, but useful YouTube downloader. And there are options we wouldn't have expected, including tools to create video slideshows, and another which converts PDFs to images or text files.
There are also a few problems, though. Several of the functions listed on the program's website and included in the launcher display a message saying they are "not currently available", for instance. So you'll see links like "Image Converter", "Photo Resizer", "Free Online Radio Player" and "Free Online TV Player", but they don't actually work.
We were a little annoyed to see the suite clutter our system root (C:\) with 10 new folders, too, apparently to hold configuration information. There are better places to store it.
And some of the tools you do get are a little more basic than we'd like. When there's a section called "DVD Rip & Burn & Copy", for instance, then we'd expect the "Free DVD Creator" option to provide plenty of DVD functionality. But it's only really useful for creating VCD or SVCDs; otherwise all it can do is burn a video DVD from a pre-built DVD folder.
Freemore Audio Video Suite is a long way from being the ultimate in free multimedia suites, then, and if your PC is already equipped with the best-of-breed media freeware then it's probably not going to appeal.
For PC novices, though, it's a different story. The suite is easy to use, and provides straightforward access from a single interface to a great deal of very capable media functions and features. It's a useful way to get started in the multimedia world.