Best Windows 8 apps this week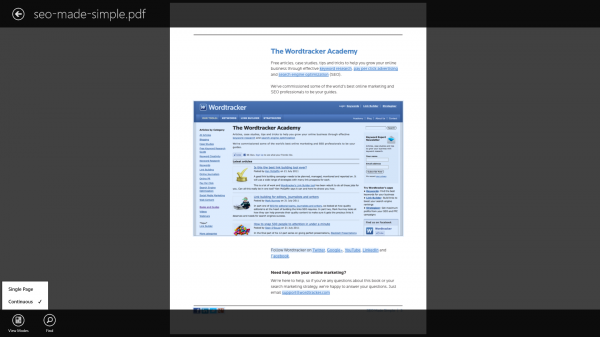 Seventh in a series. Welcome to another episode of what's hot and new in Windows Store. This week we have seen the release of a couple of official apps, Adobe Reader and Yahoo! Mail for instance, that made an appearance in store.
Other companies like Google or Facebook are monitoring the development of Windows 8 before they commit resources to building apps for the operating system. It is likely, however, that we will see additional official app releases for Microsoft's operating system in the weeks to come.
What's interesting to note is that these apps often do not provide any advantage over native apps that are already available or the services that the company's provide on their websites. The apps lack features more often than not that make them less usable.
Adobe Reader is still the go-to program for many computer users who want to read PDF documents on their system. The situation is different for Windows 8 users as they can use the native Windows Reader application to read PDFs without installing third-party software.
The extra features Adobe Reader makes available are minimal. All you get is the ability to display and search PDF documents, and to switch from continuous mode to single-page mode. That's it.
The Windows Reader app makes available additional features like displaying two pages next to each other, adding notes or saving documents which the Adobe Reader app does not.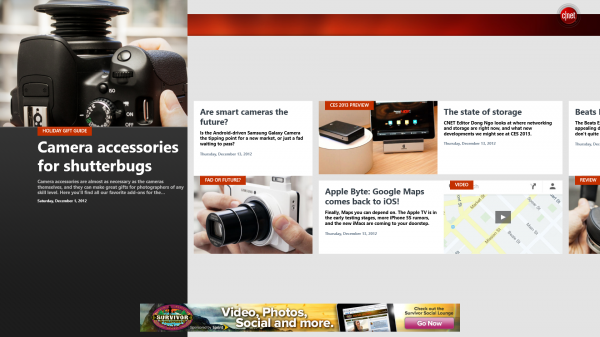 The CNET application displays a selection of guides, reviews and articles when you start the application. The contents are a selection of articles and reviews that get posted on the CNET website, with some contents optimized for the application.
Reviews display, for instance, an overview on the first page that includes a rating and opinion, while the actual review and the specs are displayed on additional pages.
Videos did not play for me during tests, and it may be that they are only available to users from specific countries.
A right-click on the main page opens a selection menu at the top that you can use to browse various categories like desktops, how-to or car tech. You need to use the Charms bar to use the apps' search functionality to find reviews and articles.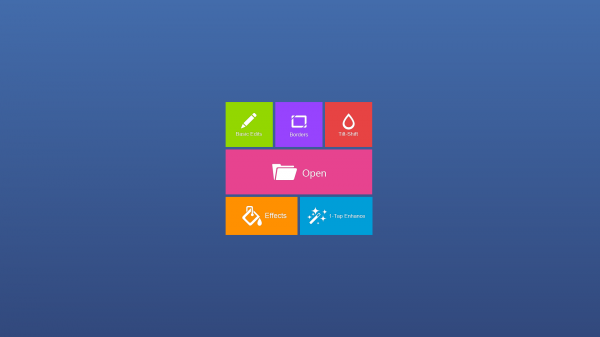 This easy-to-use image editor may not be an alternative to Adobe Photoshop or Paint.net, but the basic editing options make it a solid alternative for quick editing jobs.
The functionality is pretty good for an application of its kind. You get basic editing options like rotating images, changing brightness, saturation and contrasts, options to crop the image or to add borders to it.
A selection of Instagram-like effects are available as well that you can use on the image that you have loaded into the application. Resizing options are missing unfortunately, which is probably the one thing that many users will miss the most.
Images can be saved in various formats after the editing including jpg, png and tiff.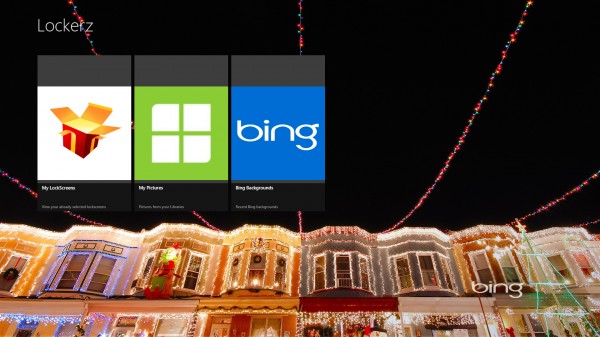 This application gives you control over the lock screen of Windows 8. It supports image selection from local directories and Bing wallpapers as well as connected devices and SkyDrive.
You can use it to automatically shuffle between background images to add some freshness to the lock screen. The application is easy to use, simply pick local or remote images that you want as backgrounds and you are set to go.
You can modify the wallpaper shuffle interval using the Settings menu of the Charms Bar.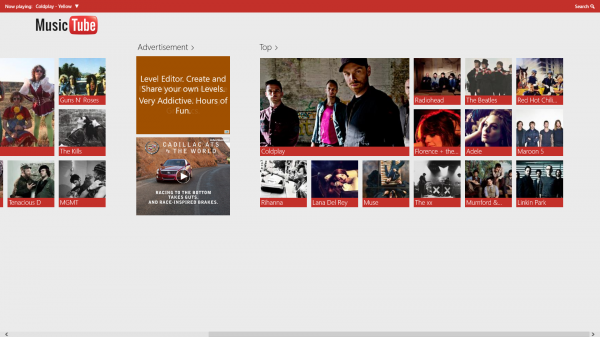 Use this application to watch music videos on YouTube. Musictube makes available of suggestions on the start page, which you can click on to start listening to right away.
A right-click on the play video page displays additional music videos by that artist that you can watch. The application pulls the artist images from Last.fm, and you can continue to listen to music even if the app is in the background.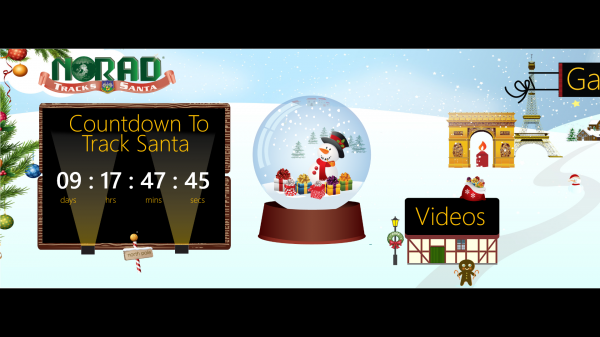 Norad displays the time left until it is Christmas, lets you track Santa's journey across the globe and makes available games and videos that you can play to shorten the wait time.
Some features open right in the application, that is for instance the case for videos, while others, like games, open in an external web browser instead.
If you are looking for a Christmas countdown then this application may suite your needs.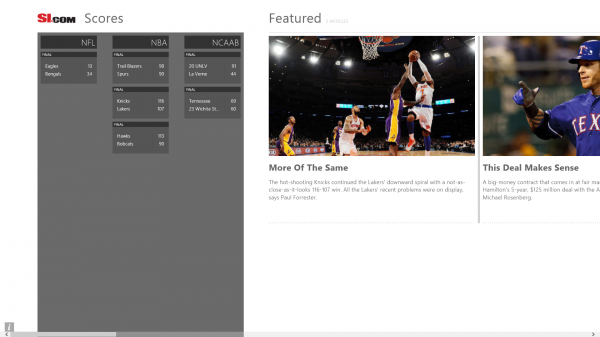 The official Sports Illustrated application for Windows 8 covers all major North American leagues, NFL, MLB, NBA and NHL, as well as NCAAF, NCAAB, Soccer and MMA.
The front page displays featured articles and scores, a right-click opens the selection menu where you can filter the information by sport.
Video contents appear only to be available for users from select countries again, while articles appear to be accessible by users from all over the world. A search is unfortunately missing.
The British Airways Inspiration App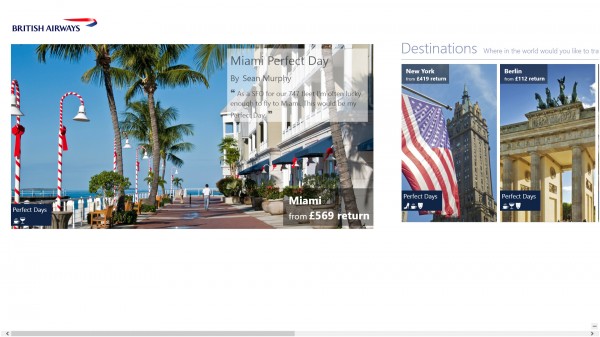 The application displays a selection of offers by British Airways. While that is not overly spectacular, the presentation may get you excited nonetheless. The application displays large bright images of the destinations to wet your appetite for a short or long term vacation.
When you click on one of the suggested destinations, you are taken to a page that is providing you with lots of information. From weather conditions and maps over photos and pricing information to perfect day scenarios that provide you with information about what you can do on a day.
The app features a wishlist that you can save your favorite destinations to. It appears to be designed for UK tourists considering that all pricing information are displayed in UK Pound.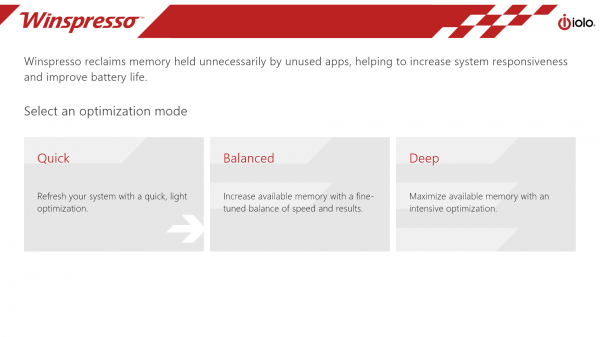 If your system is running low on memory, Winspresso may help you reclaim some that is used by unused application. When you start the application you get to choose between  quick, balanced and deep optimization modes that all do some behind the scene magic to optimize the available system memory.
The app does not reveal what it is optimizing and also does not display a before and after comparison of memory and CPU utilization which would help understand how effective it really is.
I could not really notice a difference on my 8GB of RAM system, but that does not mean that users with less RAM, say 1 Gigabyte won't notice a difference after running the app.
If you are experiencing slow downs because of a lack of system memory you may want to try out this app, if you do not, you do not really need it.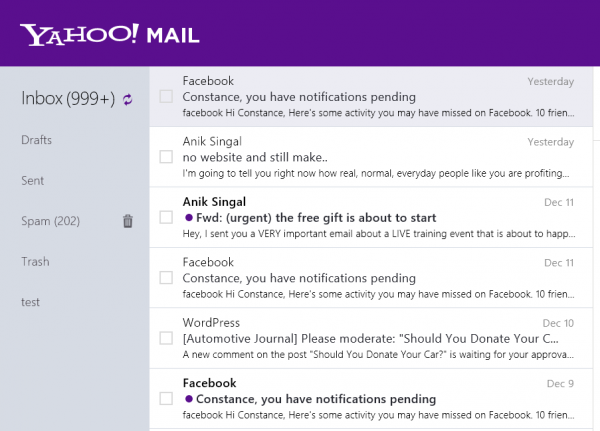 Yahoo! overhauled its mails service recently and released a native Window 8 Store  application as part of the update. The mail app gives you direct control over your Yahoo! mail inbox on Windows 8's Start screen. There you receive notifications about the latest emails you receive using the operating system's live tile feature.
The mail client itself is fairly limited in terms of functionality. While it is possible to read and compose email, it lacks features such as viewing full headers, showing top contacts or keyboard shortcuts that the Yahoo! Mail website provides users with.
It is also only possible to manage one account at a time, whereas you can manage multiple accounts using the native Windows 8 mail application.