Yahoo overhauls its mail service, adds new mobile apps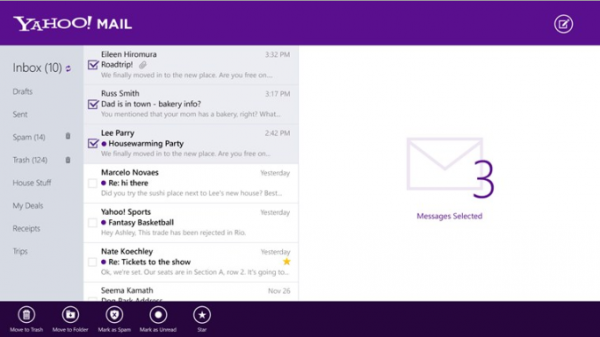 When Marissa Mayer took over the reins at Yahoo, it was largely expected that Yahoo Mail would be one of the first services to be revamped. Despite still being hugely popular, it lags behind Gmail in terms of features and has, for a long time, felt rather neglected.
Well, the good news if you're a Yahoo Mail diehard, is the service has undergone some major changes. Improvements include a redesign made with speed in mind. An easier to navigate, more intuitive and less distracting inbox will apparently allow users to get through their emails much quicker. Recognising the importance of mobile devices, finally, Yahoo is also rolling out new Yahoo Mail apps for Windows 8, iPhone/iPod touch and Android.
Announcing the changes today, Marissa Mayer said: "Email is the ultimate daily habit. It's often the first thing we check in the morning and the last thing before going to bed. Why? Because it's one of the simplest and most basic forms of communication. And since it's such an important part of our daily lives, we're making a few improvements to Yahoo Mail. You've told us loud and clear that you want fewer distractions when it comes to email. You want to quickly login, communicate, and get on with your day. And we've listened. Starting today, the new Yahoo Mail is fast, easy and available anywhere you go".
The new service is being rolled out now, and existing users should expect to receive the upgrade at some point over the next couple of days.