Google Maps on iOS hits 10 million downloads in less than 48 hours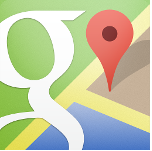 Google's new mapping app for iPhone was always going to be a hit. People trust Google to get them where they want to go and it's a great product. The fact the app stormed to the top of the App Store charts less than a day after its release provided a pretty clear clue as to its popularity.
And now Google has revealed just how big a success Google Maps is on iOS, announcing via a Google+ post that the app was downloaded more than 10 million times in less than 48 hours. A staggering number. Google doesn't usually reveal download figures for its apps, but clearly this is something of a special case. As good as that news is for Google, it's another slice of bad news for Apple which was probably hoping people's dislike of its mapping tool had been exaggerated by the media.
In the Google+ post, Google's senior vice president of geo and commerce, Jeff Huber, said: "We're excited for the positive reception of Google Maps for iPhone around the world. Congratulations to the Maps Team on the recognition for the passion and hard work they poured into it, for this release and over the last 7+ years".
He also invited users to spread the word, saying: "If you already have it -- thank you, and please tell a friend. Any feedback you have is welcomed, here in G+ or in the app (just shake it)".