Be the first to try SlimImage, a new PC backup and versioning tool [BetaNews Exclusive]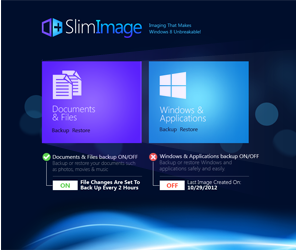 SlimWare Utilities, makers of SlimCleaner, is hosting a special-access beta for its newest software product, SlimImage, and BetaNews readers are invited to be among the first to try it out.
SlimImage integrates directly with Windows 8 to preserve and safeguard a computer's operating system, applications, files and documents independently. SlimImage is like a time machine for Windows 8 devices, incrementally backing up personal documents and files through versioning, while simultaneously, but separately, imaging the Windows 8 operating system and installed applications. In this way, SlimImage solves the problem of users losing data and personal documents when reinstalling their operating system in order to correct a system malfunction or crash.
Right now, BetaNews readers can sign up for this special-access beta by clicking here and using the code BETANEWS to download the app.  This beta version will be available for a limited time before SlimWare releases the final version to the general public.
By separating the layers of a PC's software stack and combining embedded versioning and imaging technologies, SlimImage overcomes limitations of other current PC backup products. SlimImage images the core components of a PC's operating system, middleware, and applications, while versioning personal documents and data incrementally. This segmentation allows users to revert to a fresh install of Windows 8 with all documents and personal files intact, without losing any work completed to that point. Conversely, by allowing users to revert to a previous version of a specific file without touching the software installed on the user's machine, SlimImage also allows users to retrieve important information that could have been lost forever using other methods available today.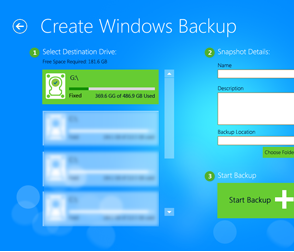 SlimImage will work on any device running Windows 8 (not RT) and maintains its dual purpose in two main user interface tiles:
Windows and Applications:  This tile provides unlimited Windows 8 operating system recovery and refresh, including all system files and installed software, in a matter of minutes with no data loss. Only the Windows 8 operating system and applications are imaged and refreshed: all video, music, personal documents and files are saved separately from Windows and thus remain intact. Accordingly, if a system crashes, or is corrupted by bad software, SlimImage can restore Windows to its original or imaged state, the way it was before the crash or corruption, while keeping all personal documents untouched and intact. These images can be stored locally as well as externally, on network storage devices, or on other computers.
Files and Documents: This tile offers incremental backup of personal files and documents, including music, videos and photos. Users can save their documents and files to an external drive, to another PC or to a networked drive or computer. SlimImage uses versioning to save incremental changes to documents and files to preserve data separately from Windows, so that personal documents and files are retrievable from any point in time from any configured storage medium.
Some of SlimImage's key features include:
Automated, unlimited backup scheduling: Independent Imaging configurations for Windows and Applications, and for File and Document versioning.
Backup to primary as well as external, removable or networked storage or devices.
Seamless integration with devices running Windows 8.
Management of multiple images with name, date, description, backup size, and frequency.
Ability to schedule -- and specify the location of -- automatic backups.
Fast reinstalls: Backup images are small enough to be stored on tablets, notebooks, ultrabooks and other Windows devices, making it easy and fast to reinstall Windows and applications.
Ability to set the maximum number of snapshots to keep and to set parameters for file versioning.
Automatic purging of outdated snapshots.
Modern Windows 8 touch--style interface that's easy to use, and works well with touch as well as with point and click.
Leave feedback, recommendations and report issues at SlimWare Utilities forum, or in the comments below.