An iPad lover's review of Microsoft Surface -- you know what's coming, right?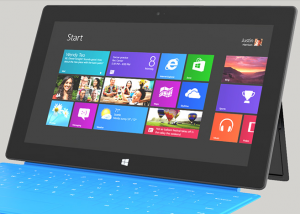 Arriving far too late to influence any gift buying for Christmas, here's my review of Surface with Windows RT. The tardiness of the review isn't really my fault. Microsoft only put its device in proper shops in the UK last Friday, and I wanted to include the shopping experience as part of the article (even though I didn't actually spend my own money -- a friend purchased the tablet I'm reviewing).
Before we get into the review, I need to preface it by saying the following: I love Apple's iPad. I bought an iPad 2 as soon as it was released and replaced it with the new 4th gen model a month or so ago. And even though I use Windows 8 daily, I really don't like the new OS all that much. So, inevitably, I'm going to hate Surface, right? Absolutely loath it. Well, that's what I thought. But surprisingly I like it. I like it a lot.
Let's start at the beginning. My friend, Chris, told me he was thinking of buying Microsoft Surface. I wanted to review it, so we struck a bargain. In exchange for my doing a little free Photoshop work for him, he would let me have his new tablet for one week. Clearly I got the better deal.
In the UK, the John Lewis department store has just started selling Surface RT. There's been a lot of press about it, so I expected a big display in the massive store we visited. There were two large tables filled with tablets. One was devoted exclusively to the iPad and iPad mini, and the other had every other tablet that John Lewis stocks. We found Surface there. Just the one display model, sitting alone and unloved next to an uninviting cardboard sign.
We watched people come and go over the course of about an hour. The device had a fair few curious visitors, but no buyers. The iPad display, a few feet away, was predictably a lot busier. Two people bought iPad Minis in the time we were there. Chris paid for his Surface and, like a surrogate mother who's just given birth, gave the device straight to me, to reduce the temptation to keep it.
The review
Surface isn't, it has to be said, a particularly attractive tablet. It lacks the aesthetics of the iPad. It's fat and bulky (although it's actually no thicker than the iPad), and when powered off it looks remarkably like an old digital photo frame I once owned. Turned on, with Windows RT showing, it looks like a monitor that Wayne Szalinski's accidentally reduced in size with his electromagnetic shrink ray. This impression is of course down to the fact that I'm used to seeing the Windows 8 interface on a much, much larger display.
The device packs a selection of ports. As well as the volume rocker and headphone jack there's a Micro-HDMI video output and USB 2.0 socket, and charging connector. Stereo speakers are located at the top of the device, on the left and right edges.
Although Surface's screen resolution is just 1366 x 768 (148ppi), compared to the iPad 4's 2048 x 1536 (264ppi) it looks absolutely fine to my eyes. Not as clear as the retina display, but it's certainly given me no cause for complaint.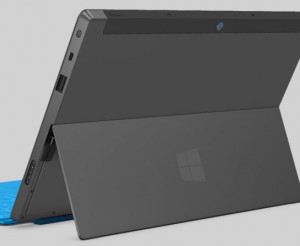 Holding Surface for the first time, I was struck by its weight. Compared to the iPad it feels very heavy, particularly when held in landscape mode. Which is odd, seeing as there's no major difference between them -- the iPad weighs 1.44lbs and Surface is 1.46lbs. Surface doesn't sit comfortably in one, or really two hands, although the magnesium back does make it easy to grip. Fortunately, the built-in kickstand means you can just put it down when you need to. And when you do, it sits at a good angle, great for watching video, displaying photos, and Skyping (the front camera points at you, the rear camera provides a good view of what's happening behind it). Underneath the kickstand you can see the capacity of your device (64GB in this case) and there's a microSD card slot for expanding Surface's capacity further.
Once you've attached the magnetic keyboard (Chris went for a Touch Cover, rather a Type Cover) you'll realize the screen is also at the perfect angle for typing. The keyboard clicks on easily and -- even if you attempt to deliberately attach it some strange way -- accurately, every time. Because typing on the rubbery Touch Cover keyboard feels weird (the keys don't move) Microsoft has said it takes five days to learn how to type properly. I'd say a day or two, if you really persevere. Although I'd rather have the Type keyboard, I suspect the additional bulk of it might become an issue in time and have me questioning if I might not be better off with a netbook.
Initially, because I couldn't be bothered to read any instructions, and hadn't paid enough attention to other reviews, I didn't realize there was a button on the frame. I looked for a recessed iPad style-home button, couldn't find one, and assumed its absence was a crazy Microsoft design decision. It turns out the Windows logo on the bottom of the frame is a capacitive button. I had a major eureka moment when I found it, and then promptly felt rather stupid for not realizing that's what it was sooner. I know, I know.
One big niggle I encountered early on with the device is portrait mode. Surface, when held this way, just feels wrong. The kickstand and keyboards don't work like this and the button is in the wrong place. And because it's capacitive, it's too easy to accidentally catch with your thumb. I often use my iPad in portrait orientation, but Surface feels as if it was designed specifically to discourage this kind of crazy behavior.
The tablet is powered by a quad-core NVIDIA Tegra 3 ARM Cortex-A9 processor, running at 1.3GHz, backed up with 2GB of memory and a GeForce ULP GPU, so it's nippy enough. I didn't really put it under any real stress -- just watched some videos, played a few games -- but it handled everything without problem.
The device's battery life is passable, but the iPad's is far superior. Or at least that seemed the case in my wholly unscientific tests (use both a fair bit and see which one needs charging first – Surface).
One of the things I know people have complained about with Surface is the quality of the images produced by the cameras which are designed for 720p video. And yes, they are poor. Certainly when compared to snaps produced using my iPad. The first few photos I took were so bad I thought I was going to have to tell Chris his tablet was defective. The front camera is absolutely fine for Skype, but you wouldn't want to use either camera for taking photos. Use your mobile for that purpose instead. It will likely produce better snaps and you won't get arm ache from carrying Surface around and lifting it up to frame your pictures. The quality of the photos isn't a deal breaker for me though, as I pretty much never take shots with my iPad, because doing so in public makes me feel like an idiot.
Windows RT
On to the software. RT is of course a cut down version of Windows 8. Which means alongside the interface formerly known as Metro it has an odd desktop function that's used for MS Office and Windows Explorer, and there are typical Windows features you wouldn't expect to see on a tablet, like a working Command Prompt and Regedit.
RT on Surface feels snappy, responds beautifully to touch, and all the things I don't like about Windows 8 don't matter here. It works well. There are times when elements of the interface are a little too small for anyone with adult fingers, but overall it's fine. The live tiles, which I don't find all that appealing on my Windows 8 PC, I actually like on Surface.
Everyone knows the Windows Store is lacking in apps at the moment, so I won't dwell on that. The situation is a lot better than it was at launch, and it will continue to improve. As an iPad owner I have to admit I felt more than a little embarrassed when I went into the Windows Store and looked at the paucity of apps on offer. But like I say, I won't dwell on it. The apps I did download and try varied wildly in quality, but that's not Microsoft's fault.
Verdict
Initially I didn't really like Surface. I expected to hate it, and I think that colored my view from the start. It felt bulky and awkward compared to my iPad, with design choices that irked and frustrated. But overtime I began to warm to it. The thing I realized on day two, was Surface shouldn't be compared to the iPad. They are two very different beasts. My iPad I use for fun things, like watching video, playing games, browsing the web, and so on, but Surface quickly became the device I turned to for work. On the iPad I use iA Writer and CloudOn for writing, but being able to use a full version of Microsoft Word 2013 in Surface is a major plus. I soon found myself using Surface more than my iPad, although a large part of that was down to the fact the device was new to me (honeymoon period and all that), and I knew I only had it for a limited time.
Surface interfaces with my main PC beautifully. It works well as an additional display, thanks to that built-in Micro-HDMI port. The tablet includes Remote Desktop so I can connect to my host PC with ease. And of course by logging into my account on both my PC and my tablet, I can sync data, and use SkyDrive to copy content. The USB 2.0 port lets me plug in an external hard disk or flash drive, and that's incredibly handy. Surface can be connected to a HomeGroup too – again very useful.
I love that I can share Surface with other people. They can create their own accounts and use an Xbox Live or Microsoft ID and get customized settings and files, which is great. My wife is forever moving apps around on the iPad, an annoying habit that I don't have to worry about on Surface.
And while I certainly don't miss Flash on my iPad, the fact that Surface comes with the add-on built into Internet Explorer (albeit only for approved websites) is a small plus as well.
I really appreciate RT's ability to split the screen too, so I can view my email while browsing the web for example. That feature became very useful, very quickly.
If I had to choose between buying an iPad or Microsoft Surface, I'd be torn. For apps and portability, I'd still go with the iPad, but for work purposes, and just using at home with the occasional trip out, Surface definitely appeals. I probably wouldn't buy one right now, not until the ecosystem has more apps to offer, and I'd likely wait and get the full Windows 8 Pro version, but the fact that I – an iPad devotee – am even considering the idea speaks volumes.
When I have to give Surface back, which is very soon, I shall miss it. Really miss it. And that's a sentence I never thought I'd ever write.