Now you can record to your Android device via USB audio interface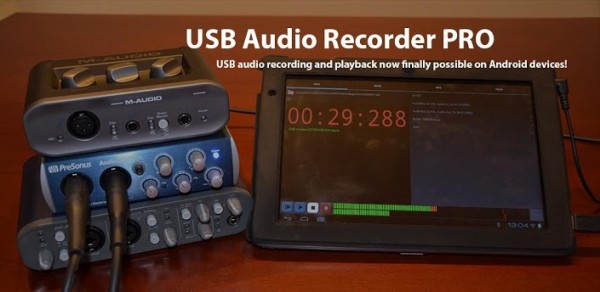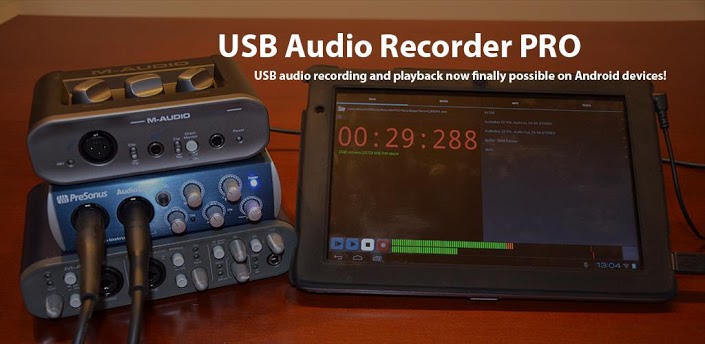 Exstream Software Development, the team responsible for Android four-track app Audio Evolution Mobile, has released an app called USB Audio Recorder Pro which lets users attach USB microphones and other USB audio interfaces to Android 3.1+ devices that support USB host mode.
Musicians, podcasters, and filmmakers alike can now attach microphones to their Android tablet or smartphone and record mono or stereo 16- or 24-bit audio, and also play back over their USB device. Many of the recording variables depend upon the audio interface and Android device that are being used, but the maximum sample rate the app supports is 192 kHz, and files can be saved as wav/flacc/ogg on internal or removable storage.
So far, eXstream Software has tested a handful of audio interfaces, and the Lexicon Alpha, Lambda, and Omega, the M-Audio Duo, Fast Track, and Fast Track Pro, the Presonus 22VSL, Blue Yeti and Yeti PRO, the RME Babyface, as well as the Zoom H2 and H4 are guaranteed to work with the app.
Limitations currently are many with the app, and eXstream warns, "Unfortunately, Samsung S1, S2 and Note 1 devices are not supported because Samsung delibaretely blocks audio devices. S3 and Note 2 work though."
USB Audio Recorder Pro costs $2.99 in Google Play, and eXstream says this functionality will eventually be added into Audio Evolution Mobile as an in-app purchase.