Quickly download entire web galleries with NeoDownloader Lite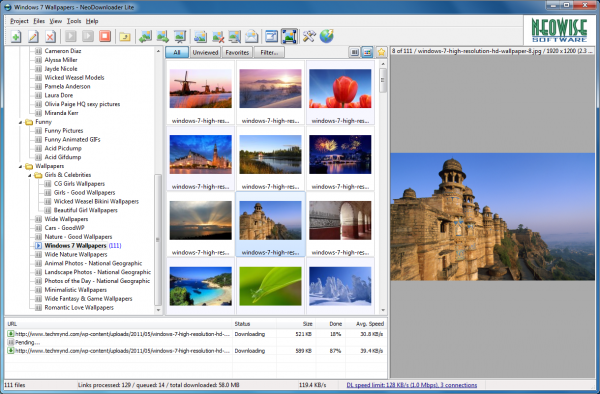 Browsers are fine for displaying content, but not nearly as useful when you want to download it, and this is especially true with web galleries. No matter how simple the collection of images, you'll still probably have to work them all manually, right-clicking each in turn and trying to figure out the appropriate option ("Save as", "Save link as", whatever it might be).
If you'd prefer an easy life, though, you could forget all the usual hassles and turn to NeoDownloader Lite, instead. While the program has some issues, it's still a great way to simplify and speed up the process of downloading images from the web.
And the program's advantages start immediately, with the option to sample a Repository of almost 50 projects across a range of categories: "Digital Art", "Photography", "Funny", "Wallpapers", and "Girls and Celebrities" (the latter is mostly just celebs in bikinis and similar shots, nothing likely to offend based on our observations, although if you're concerned about age appropriateness then you might want to check it out).
Getting started was extremely easy, too. We just chose a project -- "Windows 7 Wallpapers", clicked Start, then watched as the program downloaded and displayed more than 120 gorgeous high resolution photos. There are thousands of other images just waiting to be accessed, and if you're after some quality wallpapers then these sample projects could justify installing NeoDownloader Lite all on their own.
Of course in reality, though, you'll probably want to try downloading images from a few URLs of your own, and that's also fairly straightforward, at least initially. Simply drag and drop a URL from your browser onto NeoDownloader, create a new project, and it should begin downloading. But if there are problems, then you can tweak the settings in various way to try and improve its results.
As we mentioned, there are issues here. This free version of NeoDownloader is restricted to a download speed of 128 Kb/s, for instance; it can only grab 3 images simultaneously, and a maximum of 2000 per project.
And while downloading images from your own choice of sites usually just works, if there are issues then it's not always very obvious what to do. At the core of NeoDownloader Lite is a very powerful offline browser, and there are plenty of options to explore, none of which are particularly well documented.
Still, if you're looking for an easier way to bulk download images from at least some sites then NeoDownloader Lite should prove a useful tool. Its Repository alone is a great collection of graphics links.
And if you like the program, it might also be worth checking out the full commercial NeoDownloader program. This removes the download speed and other restrictions, adds the ability to batch download any other content type (music files, videos, archives, more), and allows you to download from password-protected sites, amongst other extras. It's not cheap at $34.95, but the program's ease of use and rich feature set mean it could be worth your cash.