First look: Redbox Instant by Verizon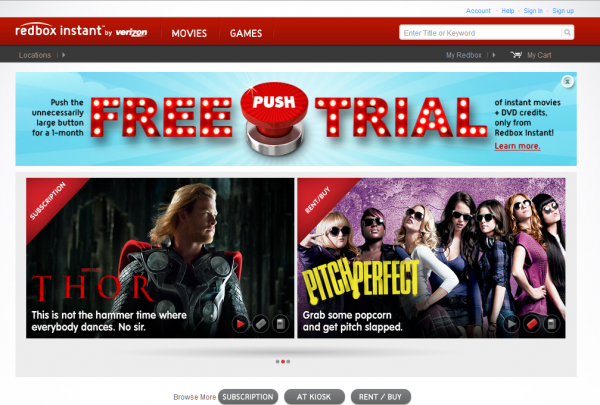 Are you looking for competition to Netflix and Amazon Prime? By now you have likely heard that Redbox has teamed with Verizon to provide just that. The kiosks, which can be found almost everywhere these days, are quite popular with a number of people, but running out to a store, especially in bad weather, is not overly user-friendly. When the snow is flying, it is so much nicer to get the movie you want without leaving your couch.
Redbox has been testing its new Instant service in private beta for a couple of months now. If you want to try and get into the program then head over to Redbox Instant and request a code, but be aware that the wait can be long. In fact, with the service expected in early 2013 you may just be better holding off.
So, what can you expect once you are in? Well, first of all, even getting an invitation code only provides a 30-day free trial. After that you will need to pay. If you already have an account then there is no setup process -- simply use your existing login information to enter Instant.
By default, the plan allows for unlimited streaming and four DVD rentals "from the box" every month, and it will lighten your wallet by $8.00 per month. You will need to enter your credit card, or choose an existing one if you have a previous account. If you do not cancel within the trial period then you will begin getting billed for the service.
Caution for that last step -- I received a "HTTP Error 400. The size of the request headers is too long" error message when trying to select my existing card, and even when trying to enter a new one. I ended up having to call the company's customer service which, incidentally, cannot help with Instant. You will need to set up a live chat from the Instant page. More on that experience and the browser issues later -- queue the ominous music.
Browsing
Not every movie is available for streaming. Not a big surprise there. The movie industry still has not fully embraced this concept -- it has yet to learn those hard lessons that the recording industry learned after Napster. It will get there, but it will take more time.
For now you will need to pay attention to the red swatches across the upper left corner of each video that indicate if the title is available for your subscription plan or if it is "buy/rent".
The home screen displays a scrolling list of top movies across the top and moving down it will show customers various categories such as "Top subscription", "Hot at kiosk" and more.
Playing Movies
Click a movie that is in the "subscription" category and you get a brief synopsis, reviews and other information. More importantly, you get a "watch now" button.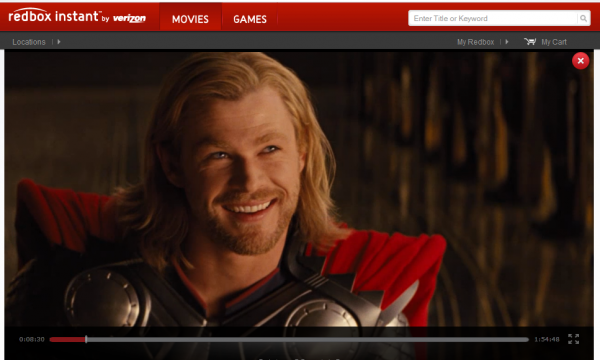 There is nothing fancy here -- you get the basics of play/pause, fast forward, rewind, volume control and full-screen option. The playback was incredibly smooth, especially given that I was using a wireless connection. There was no stutter and no buffering.
Conclusion
Now for the negatives, and they are not too bad. Actually the only one I really encountered was the setup issue and the chat contact. I received the "400" error using Chrome, no response when I tried Internet Explorer, but when I finally moved to Firefox it all worked.
As for customer service, as I alluded to earlier, at this juncture Instant service is only available via chat. That may sound fine, but it is difficult to contact. In fact, the first five times I was shown a hold time and then dropped. However, when I finally reached a rep, "Marsha" was very friendly and helpful. Unfortunately she ended up with no solution and a promise I would be contacted by "tier 2" within 72 hours. Bear in mind this was all before I tried Firefox.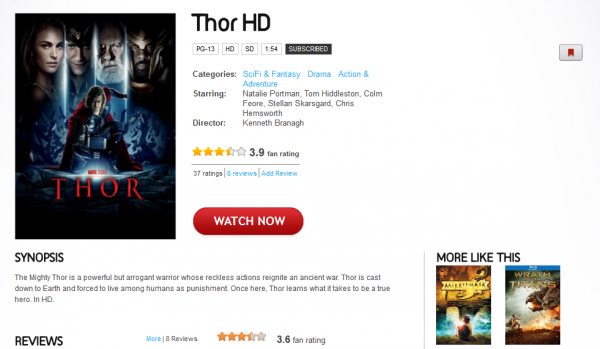 Once I was set up and had everything working, I cannot say enough about how well it worked or how great the video looked. Smooth play and easy controls.
In the end, the service looks as if it will be a good competitor in the market but it is clear there are some glitches to work out. That is likely why a phone rep (possibly slipping up) told me it would not be released until "early spring."