Best Windows 8 apps this week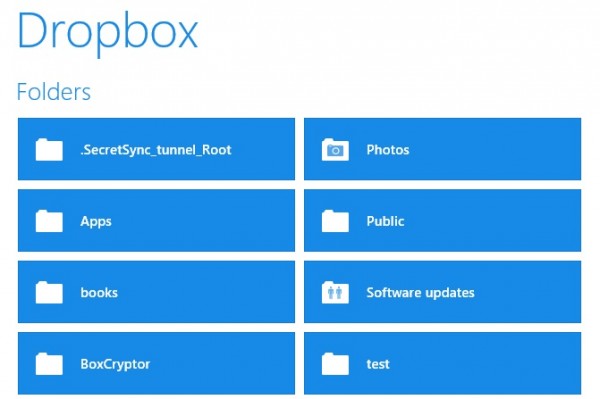 Eleventh in a series. Microsoft has updated two of the native apps that Windows 8 ships with this week. The News and Finance apps have received updates that enhance performance, improve network connectivity and add support for additional regional sources.
A total of 24,749 apps are listed in the US Windows 8 store this Friday. Of those, 20,019 are free to download and install, while 4,730 are paid applications. That's an increase of 961 apps this week.
The popular file hosting and synchronization company Dropbox has launched its official Windows 8 application. You can use it to access all files hosted on Dropbox. The application does not sync files with the operating system though, which means that the files are retrieved when you request them. You get a picture viewer and an option to watch videos as well, but that is about it. The application lacks important features, such as the ability to upload files to Dropbox or to download files to the system. All you get right now is the ability to launch the selected file in the default application of the system.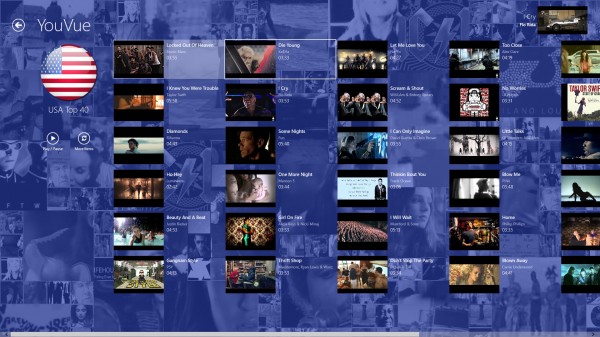 This music app for Windows 8 makes available genres, news songs and more than 40 different music charts. Like many other apps, it uses YouTube as the backbone for that. When you start the application you can either dive into one of the supported genres, 80s, pop, jazz or dance for instance, check out the what's new listing where artists are featured, or check out the extensive charts section. You find US and UK Top 40 charts here, Europe Top 100, as well as Single, Soundtrack and even Web Top charts. The music continues to play in the background when you leave the screen. You can for instance use it to play the week's top 40 of the US or UK as a playlist while you do other chores on the system.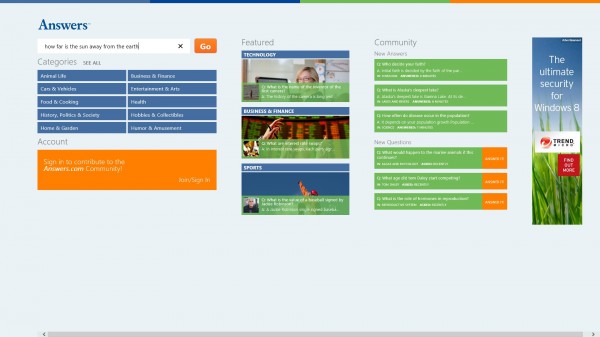 The official application is a knowledge base that you can use to find answers for your questions. It is a direct copy of the web service of the same name, and not to be confused with Yahoo Answers, which offers a similar service. You can browse categories on the Start page if you just want to browse, check out featured questions and answers, new answers or questions, or type in a question that you have to receive answers for. There is no guarantee of an answer though and many of the answers on the site appear to be rather short in size. Some on the other hand provide you with detailed information.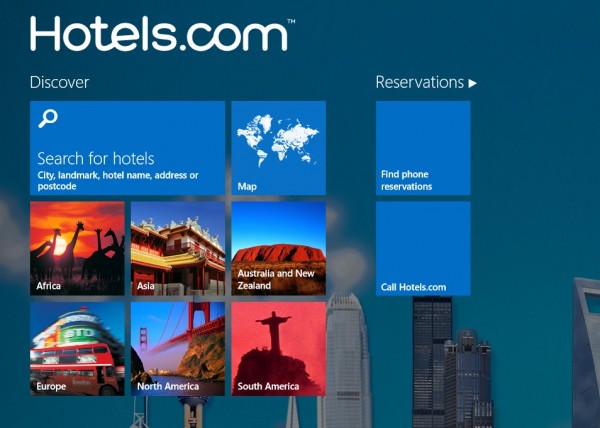 The official application lets you find hotels all over the world. You can browse by continent, map, or search for hotels by entering the name of  city, landmark, hotel, address or post code in the search form. Hotels are displayed with their rating, stars, location and price on the results page, which is somewhat hard to read due to the choice of colors on it. A right-click on the page opens up options to sort the hotels, for instance by price, stars or special deals, filter the listing, or display them all on a map instead. The map view is useful as it shows you locations of all hotels in the vicinity so that you can narrow down the results this way.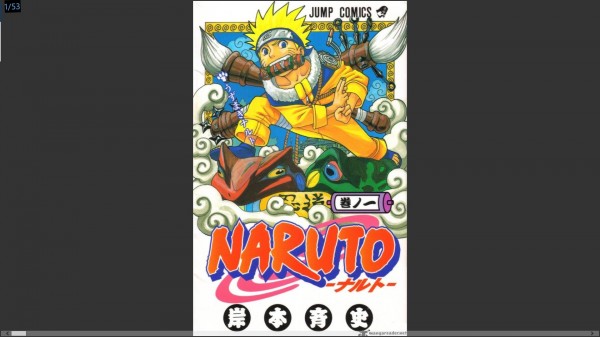 If you can't get enough of Japanese Manga you may be interested in Manga Flow, another Manga reader for Windows 8. It taps right into the databases of the four popular services Manga Reader, Manga Fox, Manga Panda and Manga Here. Why different sources? Because they use different databases, which increases the chance that you find the Mangas you are looking for in one of them. You can browse the collections by category or use the search to find a particular series that you are interested in.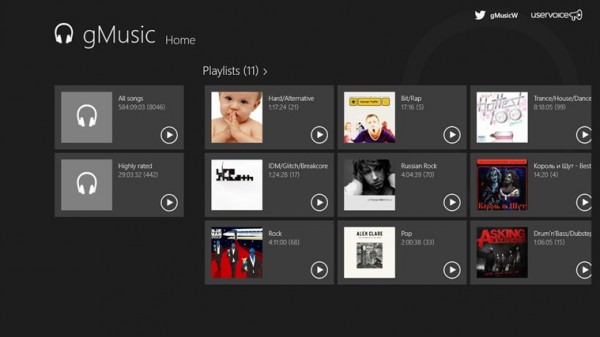 If you are using Google Music you may like this unofficial application that brings your library to Windows 8. Once you have signed in you get access to all of the music available on Google Music. You can stream songs to your device, manage playlists or rate songs using the application. The only benefit over playing music directly on the Google Play website is that you do not need to have a web browser open all the time to do so. If you are working locally and are short on RAM, you may prefer to use the application. Otherwise, it is recommended to use the official service instead.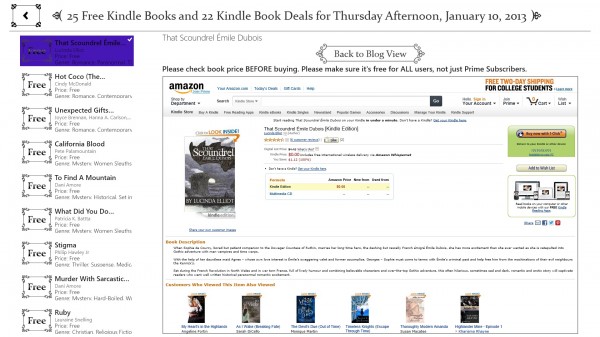 This app makes available a selection of free ebooks that Amazon is offering for its Kindle devices including the Kindle Reader for PC. You can access the four categories Free Kindle Books, Top Free Kindle Classics, Top Independent Authors 2011 and Top Independent Authors 2012 on the start page. A click opens a list of free books sorted by genre. Each listing includes the name of the book and its author, the genres, star ratings, number of reviews and size. When you click on a book, you are taken to an embedded Amazon page where you can add it to your Kindle collection (you need to add it to your shopping cart and check out).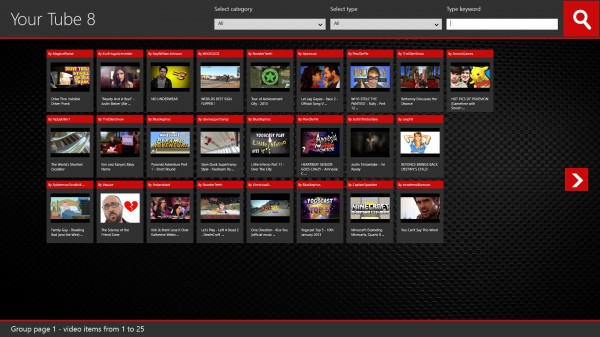 A front end for YouTube that provides you with a selection of hand-picked popular videos and options to browse or search the vast YouTube video database. The application is responsive and easy to use as it uses a native search option and not the operating system's standard way of searching applications. The app seems to remember the quality setting so that you only need to change it once to use the same quality, if available, from that moment on.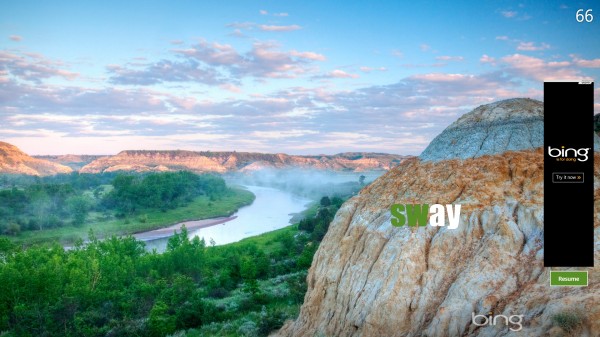 If this is your first touchscreen device you may need some practice to increase your typing level. Typo is a game that you can play to type faster using the touchpad. While designed for that, it can also be played with the keyboard. You see words falling down from the top and need to type them before they reach the bottom. It begins with three letter words and slowly increases both the letter count and speed of the words when you reach new levels.