Switchblade 0.70 troubleshooting toolkit revamps programs, adds Process Hacker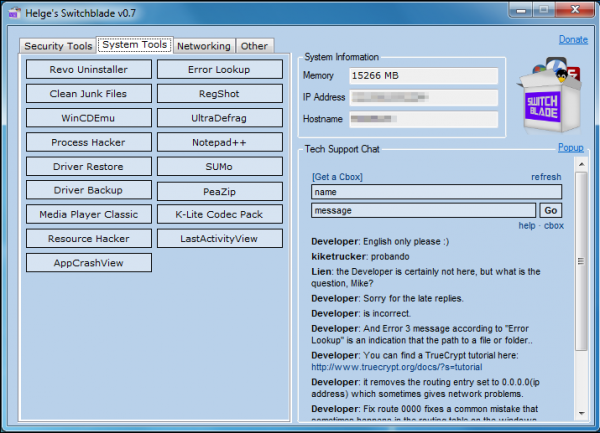 It's a week since we covered Switchblade, an interesting portable troubleshooting toolkit which was a little flawed by its selection of programs. While there were some excellent choices, the package was distinctly short on system monitoring tools. And we weren't entirely sure that most people would want to install a copy of Apache on a PC they were investigating, either.
With further questions soon emerging over licensing issues for some of the programs, it wasn't long before the author removed the SourceForge download. It's just reappeared in a new Switchblade 0.70 build, though, which appears to address at least some of the previous issues and concerns.
Some had wondered whether the author had the right to distribute a portable edition of Malwarebytes Anti-Malware, for instance, and sure enough it's now been removed. And IObit Uninstaller and Advanced System Care have similarly been pulled from the lineup.
The current bundle is also the more compact version, which doesn't include Apache (amongst other things), and that makes for a much smaller download (45MB as opposed to more than 220MB).
And yet the package also greatly ramps up its troubleshooting abilities with some very useful system monitoring and tracking tools. AppCrashView gives you a detailed view of the last system crashes, for instance. LastActivityView provides a vast amount of information about what's been happening recently on the target PC (startups, shutdowns, user logons and logoffs, programs run, applications installed and more). While Process Hacker shows you exactly what's running on your system right now.
The interface has been revamped a little, with Switchblade's various programs and features now all organized into four tabs (Security Tools, System Tools, Networking, Other).
And the "System Information" pane now correctly displayed the free RAM, IP address and host name of our test PC (previously this was blank).
We're still left with a licensing question or two. Does the author really have the right to distribute Microsoft Security Essentials, for instance?
There's no doubt that Switchblade 0.70 is much improved, though, especially with the inclusion of Process Hacker, and it's good to see the package back and available for download again.