Speedtest.net app finally comes to Windows Phone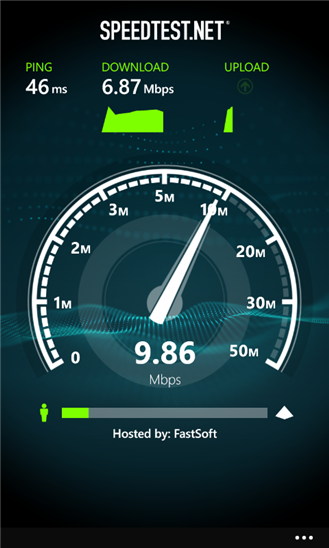 What's the go-to app for testing internet data speeds on mobile devices? Undoubtedly Speedtest.net is one of the most obvious answers coming from Android and iOS users, but not from those rocking Windows Phone 8. For some time, Ookla, the company behind the app, has turned a blind eye to Microsoft's smartphone operating system but, starting Monday, Speedtest.net is finally available for those who prefer tiles to icon grids.
As you may expect, the app carries over much of the existing functionality from its Android and iOS siblings but, unlike them, Speedtest.net for Windows Phone 8 is dressed up in a much nicer looking package. The app displays ping (latency in miliseconds) as well as the internet connection download and upload speeds. Per the usual tradition, it continues to display the speedometer with the live indicator in the foreground.
Speedtest.net also provides an internet speed testing history containing previous results and adjacent time-stamps. Users can have the app connect to a preferred server, as well as set it to display the speed in different formats (including the more intuitive Mbps). The app can also show the internal as well as external IP address, and use the user's location to select the appropriate server for testing.
Although Speedtest.net lists under requirements the WXGA (1280 by 768) resolution (among the 1280 by 720 and 800 by 480 ones), users have reported that the app does not work at the moment on the AT&T variant of the Nokia Lumia 920. On other carriers the issue appears to be non-existent.
Speedtest.net is available to download from the Windows Phone Store.