Get Android ICS natively on Windows 7 and 8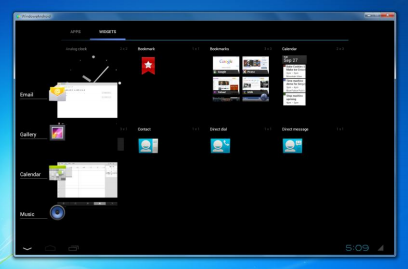 Running Android on Windows is not a new concept. It has been possible for sometime now, but it required the use of something like Virtual Box, or rival virtual machines. Now version 4.0.3, known more familiarly as Ice Cream Sandwich, has been ported to both Windows 7 and Windows 8. It runs natively, no virtual anything needed.
This is not exactly for everyone. For one thing, there is no Google Play Store, although the developers are working to add this rather important feature. For now you can side-load apps using the APK file.
Getting Android for Windows is also not as easy as it should be. You will need to fill out a short form and then wait for an email with the download link. Despite being a rather small file, the download is slow, perhaps due to demand. I also had some issues with "corrupt file" messages and I had to redownload the program a couple of times.
However, once those obstacles are overcome, you will have a full running version of Android in a window right on your desktop. This is new, and certainly not without issues, but it could shape up to be a great tool for developers once all of the kinks are worked out. Trust me, in my brief experience I found a lot of kinks. It is certainly not ready for prime time, but I have hopes it will get there.
In fact, as I write this, it has crashed and is failing to restart...