BlackBerry bribes -- ah, rewards -- app developers with a limited edition red Z10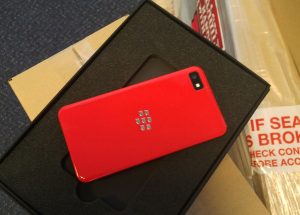 It's certainly one way to make sure your app store attracts a decent number of apps -- offer developers something that money can't buy (except possibly later on through eBay). BlackBerry -- formerly RIM -- has produced a limited edition red BlackBerry Z10 for those developers who created "quality" third party apps for the new BB10 platform prior to launch.
There will be just 12,000 units of the new device made, and BlackBerry estimates those developers who qualify for one (and who must also have a BlackBerry Dev Alpha A or B testing device), will receive their handsets in 6-8 weeks. The company will email successful developers and explain how to trade a Dev Alpha unit for the new device.
Each hot-rod red Z10 will have the words "BlackBerry Developer" engraved on it, and come with a unique serial number.
Announcing the move at the BlackBerry Jam developer conference in Amsterdam today, BlackBerry's VP of developer relations Alec Saunders said that early developers will be "the only ones that will have these devices because they're the ones that earned them".
He did however, say the phone will also be made available to new developers, provided they get their apps accepted by 28 February, so there's still a chance you can get your hands on one if you act quickly.