Google Play now sells Orb wireless charger, but WHY?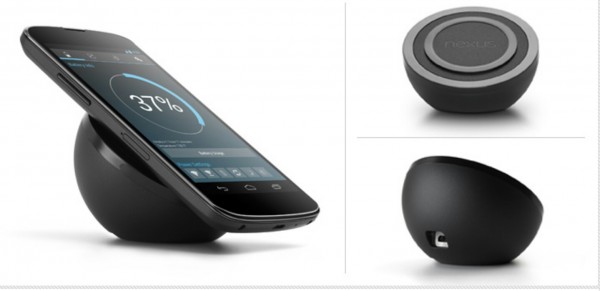 If you really want to part with $59.99 (plus shipping and tax), the long-anticipated Orb is for sale. Timing coincides with fairly consistent Nexus 4 availability (about time for that) from Google Play. Forgive my total lack of enthusiasm. Gimme a Nexus 10 dock or something else useful rather than just geek.
My wife and I both now own Nexus 4, but neither of us pines for Orb. One of the phone's features (I wouldn't say benefits) is wireless charging. You slap the handset down on the half-sphere, which juices the battery in Stargate Universe-like fashion. I've got a chord for that, free with the phone, that charges faster than the four fraking hours Google claims for Orb. That said, there is something Star Trek-cool about using the phone round and about, while charging, without actually being plugged in.
But real retailers know the big money is in add-ons, and little extras like Orb are sure to sell. But there are peripherals that are cool or geeky and ones you really need. Take the aforementioned Nexus 10 dock, which Google teased in a holiday video. I could use one of those.
I ordered the official Nexus 7 dock from Adorama Camera for 40 bucks on January 29 (N10 is still MIA). UPS tracking shows delivery on February 12. Now that is an add-on I can use, and judging from the chatter across forums and social networks, that sentiment is shared by many. But, whoa, not from Google Play.
I'm spending the month using Microsoft's Surface Pro, which I like way more than expected. But apps just aren't all there. The group chat service BetaNews uses is MIA in Windows Store and the browser version, like some other products, disconnects when switching IE10 tabs. There's an Android app, and Nexus 7 is fast-typing for me. Also, I can bang out email replies or social network posts on the little tablet faster than any other device, including a laptop.
Gotta ask: If a Nexus 4 owner, are you buying Orb? Please explain why or why not.