Best Windows 8 apps this week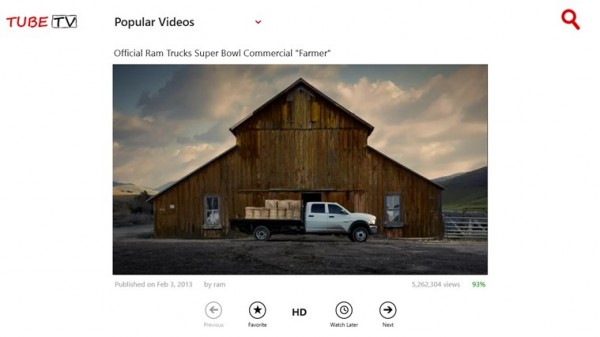 Sixteenth in a series. Windows Store's slow but steady application growth continues this week with the addition of 610 new apps in the US store. This brings the total listed to 28,665.  Of those, 22,101 free and 6,563 paid. It is not clear why there is one application missing when you add free and paid apps.
The growth is slowing down if you look at the recent performance. Two weeks ago, 970 new apps were listed in Windows Store, one week ago that number dropped to 773, and this week we see another drop to 610 new apps. It will be interesting to see if the downwards trend continues or if there will be a recovery in the coming weeks.
TubeTV is a video aggregation application that brings popular YouTube videos to Windows 8. It plays popular videos, based on their popularity on YouTube,  non-stop by default giving you options to switch to a category of interest instead to watch only popular videos published in that category.
Videos can be skipped and controlled in the interface, and a search is available that you can use to play videos that match your search query.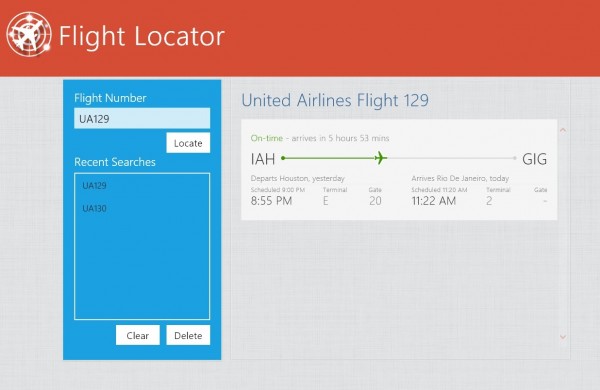 The application lets you look up flights by entering the flight number into the search form on the start page. If a flight can be identified, you are presented with departure and arrival dates, where it departed from and if it was on schedule, and when and where it will arrive.
You also also be notified if the flight is on time and in how many hours and minutes it is going to arrive at its destination.
The application keeps track of recent searches so that you can reopen the flight information with two clicks of the mouse button.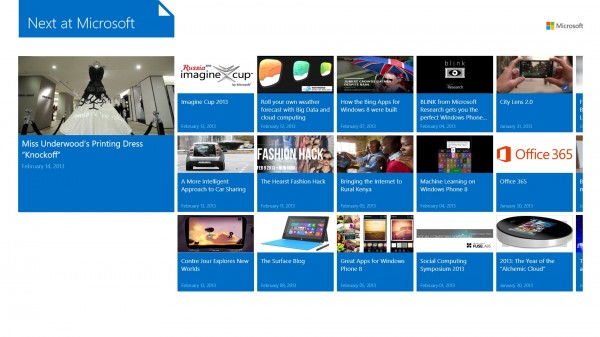 Think of Next at Microsoft as an application that brings you a selection of news and information about the company in summarized form. Instead of having to read through pages of information, the posts are usually a couple of paragraphs long at best.
Links lead to Microsoft blogs and third-party websites that offer additional information about a topic of interest.  Note that these links open in the default system browser and not in the application itself.
This application can help you stay in the loop in regards to Microsoft without spending too much time on it.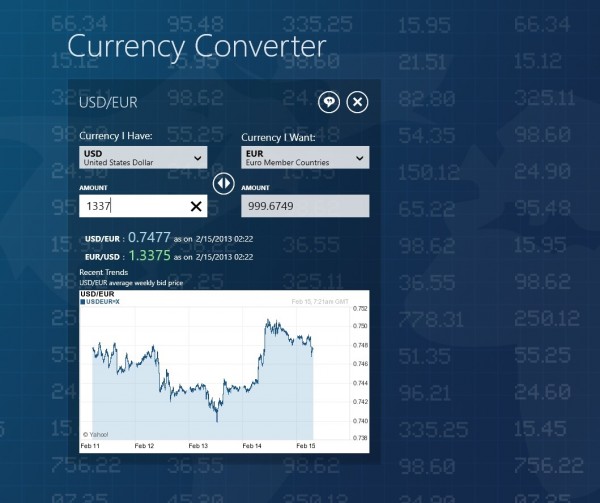 I sometimes purchase goods in the UK and have to convert Pound into Euro to know how much I have to pay for those items. Currency Converter provides you with the means to quickly make currency conversions.
You pick the two currencies you want to convert between using a pulldown menu and enter the desired amount that you want to convert. The program then displays that amount in the interface, as well as the current exchange course and the average weekly bid price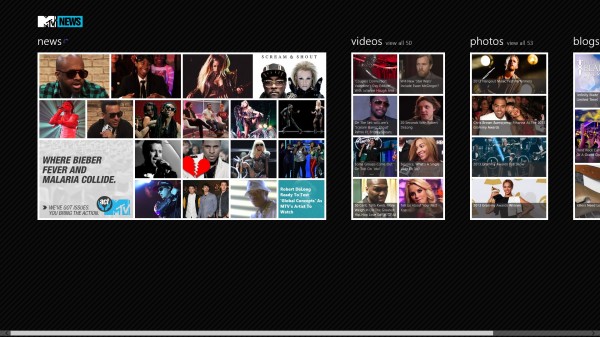 MTV News offers a selection of news, videos, pictures and editorials covering the world of celebrities. The news is taken straight from the MTV website and the biggest advantage you get when you access them in the app is that the layout and design improves the readability.
The application displays pictures of celebrities on the front that you can click on to to look at photos, read blog posts or watch videos about that celebrity.
What may be irritating to some is that the application does not reveal all that much about a story until you click on the photo. You can use the search of the Charms Bar to find news of interest as well.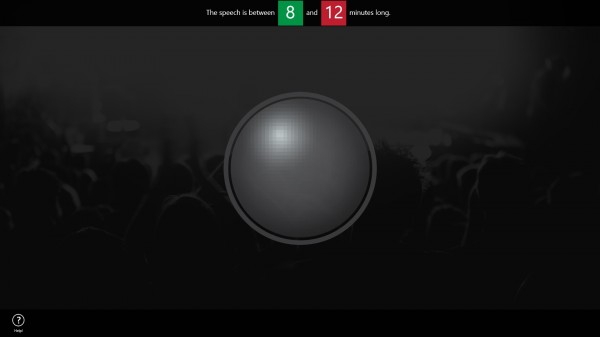 If you prepare and give speeches regularly you know that it is important to practice the speech at least once to help you understand the speech's structure better and find issues with it that you need to resolve.
It can also help you get a feeling for the time it takes to give the speech, or make sure that you are within time limits if that is a requirement.
Speech Timer helps you with that.  You set the time limits on start, for instance between 3 and 4 minutes, and click on the microphone in the middle of the screen afterwards to get started.
The microphone changes colors to indicate when you are in time and when the speech is taking to long. You can reset the time at any time to start anew.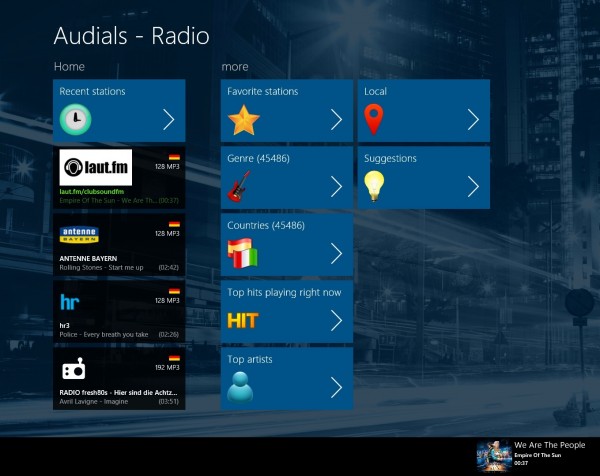 Audials Radio provides you with access to more than 40,000 Internet radio stations that you can tune in right from within the application. What's interesting is that it not only lists stations based on genres or country, but also top hits that are playing right now and top artists.
You can right click any station to add it to the favorites to access them with two clicks from the app's start page.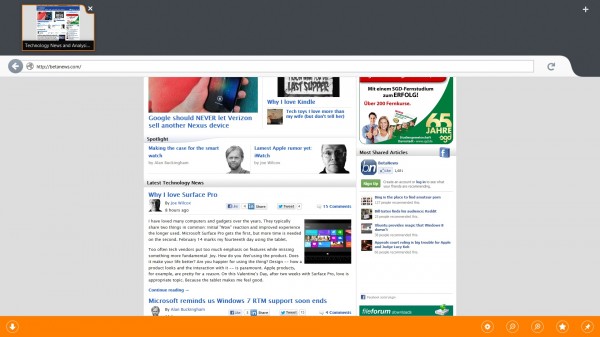 This week's big new app release is one that you do not find in Windows Store. Mozilla added an app version of Firefox to the browser's Nightly channel which gets automatically added to Windows 8 when you update or install the latest version of the browser on the operating system. Note that the app only becomes available when you make Firefox the default system browser. To do that, you need to open it on the desktop and follow the Nightly > Options > Advanced > General path to click on the button there to make Firefox the default browser.
The browser starts up in full screen mode just like any other app. It displays the url bar on top that you can use to search or load Internet addresses, and an assortment of bookmarks, top sites and recently visited pages on new tab pages. You need to right-click to display tabs and other options that the browser makes available, like pinning sites to the operating system's start screen. It is furthermore possible to enable Firefox Sync to synchronize data, access the bookmarks or  add a master password to the app version to protect passwords until the master password is entered.
It is a preview version of Firefox, which means that several features are not yet fully implemented. This includes add-on support, access to all browser settings in a menu (you can load about:config) and other core features like options to save web pages. Still, it clearly highlights what Mozilla is planning for Firefox for Windows 8.