Replace Windows Run box with the more powerful Run-Command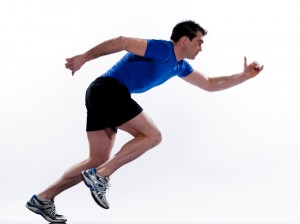 The Windows Run box has always been a quick and easy way to launch programs, but it's not exactly packed with features. You can specify an application to launch, choose something you've run recently from the History list, and, well, that's about it.
You don't have to live with these limitations, though. Grab a copy of the new Run-Command and it'll take your Run box to a whole new level.
The program is a tiny download (42KB), so you can just unzip and go. And it's extremely portable. There are no .NET or other major dependencies, and the author says it'll run on anything from Windows 98 to 8.
Launch Run-Command and at a minimum it'll work more or less like the regular Run box. You can enter a URL, file or folder name (or browse to it), press Enter or click Run and it'll launch as usual.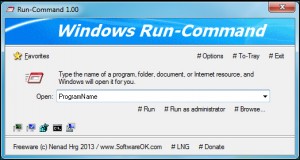 There's also a button to run programs as an administrator, though. (You can do the same thing from the regular Run box by entering a program name and pressing Ctrl+Shift+Enter, if you remember, but this is certainly easier).
There are easy ways to launch commonly-used tools. So for instance Run-Command has built-in icons for Regedit, Cmd.exe, the Computer Management and System Properties dialogs, and more.
There's even a customizable Favorites system, which acts something like a mini Start menu. It comes with built-in links to many system tools, but you can also add more of your own. And if you're using Run-Command from a USB stick then this could help you to create your own portable working environment.
Through all of this the program does its best to stay out of your way, by default minimizing to the system tray. But it's easy to launch via the regular Win+R key (although you can change this to whatever you like). And background RAM use is reasonable at around 7MB.
There is also one annoying bug. Our test PC happened to have the display of icons on the desktop turned off, but we noticed that launching Run-Command (and closing it) caused them to be displayed again. There's no harm done, you can just hide them once more, but it still quickly becomes extremely irritating.
This may not be an issue which applies to all systems, though. And if you allow icons to be displayed on your desktop then this won't be an issue, anyway. So if you're interested in the idea, don't let this put you off: just download Run-Command and see how it works for you.
Photo Credits: ostill/Shutterstock