Microsoft NEEDs a Mobile Manhattan Project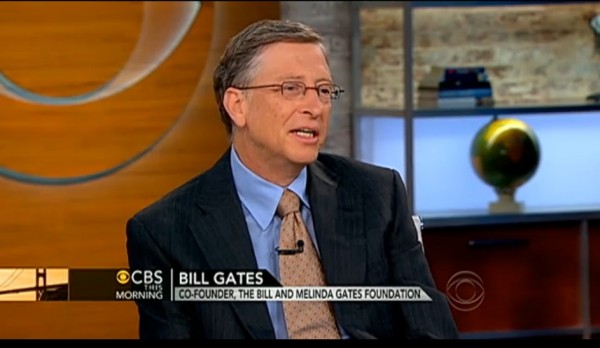 "We didn't miss cell phones, but the way that we went about it, ah, didn't allow us to get the leadership. So it's clearly a mistake." That's the chilling admission from Microsoft Chairman Bill Gates during a CBS This Morning interview with Charlie Rose (Editor: full interview from January 30). Referring to CEO Steve Ballmer, the cofounder emphasizes: "He and I are not satisfied that in terms of, you know, breakthrough things, that we're, ah, doing everything possible". You think?
Hallelujah! Praise the Lord (or whomever or whatever you worship, if anything). Change starts with admission of fault, and Gates gives it. So what should Microsoft do about the problem? Take my advice. Please. Starting five years ago, I repeatedly recommend Microsoft lunch a Mobile Manhattan Project -- on the order of Internet Explorer in the mid-1990s but only much, much larger. There simply is no other way to catch up in mobile.
What I Predicted
In September 2008, writing for Microsoft Watch, I cajoled and warned: "It's time for Microsoft to launch a Mobile Manhattan Project, something on the scale of Internet Explorer in 1996. If Microsoft cedes the mobile market to Apple and Google, the PC will be the software giant's final -- and declining -- legacy. Mobile devices, particularly cell phones, will be the next dominant platform. The PC's role will reverse, becoming adjunct to the cell phone".
But there is greater context. I posted about Google's browser, then out in beta, not Microsoft mobile:
Make no mistake, Chrome is the most threatening competitive product Microsoft has faced in a decade. But the threat is more potential, because Google has a long way to go from beta to shipping product and wooing developers to the new runtime along the way. That said, if Microsoft's mobile strategy weren't so weak, I wouldn't be writing this blog post.

Before continuing on the main topic, I must clearly state something I've alluded to in other posts: Microsoft must change its priorities. The company has wasted too much time chasing Google in search. The search wars are over, and Google won. Microsoft must accept this. Where Microsoft should have been pushing hard is the device category where search will be the killer application: the cell phone.
Would any of our usually sassy commenters like to argue that any of this isn't true today, as predicted? Have fun trying.
Once, sometimes twice, a year, I rail about this topic, but the older posts carry more weight. Another, from December 2009: "I tell you this: If Microsoft loses the mobile market, it loses the future. Once again, and I'm exhausted from blogging this, I say that Microsoft must launch a mobile Manhattan Project. If not, it will be buyers of all categories, including enterprises, hanging up on Windows Mobile".
Of course, Microsoft hung up on the OS and shifted to Windows Phone. I issued these warnings before iPad launched, or Android gained such overwhelming phone sales share. June 2010: "There is no Mobile Manhattan Project, but leadership living in denial about the future and the kind of resources necessary just to stay in the game. Winning is no longer an option -- not at the current level of commitment".
Finally, though, Gates admits a "mistake". If this is the end of denial, then change is possible, but only with deep commitment to leap ahead and redefine the mobile category. Microsoft has no time to waste. Minutes matter. Google activates more than 1.3 million Androids, the majority smartphone, per day. During fourth quarter, combined Android and iOS smartphone share reached 90.1 percent, up from 74.9 percent a year earlier, according to Gartner. Anshul Gupta, Gartner principal research analyst, says that "2013 will be the year of the rise of the third ecosystem as the battle between the new BlackBerry 10 and Windows Phone intensifies". The operating systems have 3.5 percent and 3 percent sales share, respectively.
What can Microsoft do
Mobile Manhattan Project is possible, because Microsoft did something similar before in the 1990s. Netscape got a big head start in browsers, amassing massive market share early on. But in just 18 months, Internet Explorer matched and even exceeded its rival. Microsoft needs to make that kind of commitment in no more time than that.
The company already is on the right track with Surface tablets, and I strongly encourage Ballmer and team to stay the course, while releasing models with 7-7.9-inch displays. The larger problem is phones. Some recommendations:
1. Suspend Windows Phone licensing fees for 12 months. Make the operating system free, a strategy that worked well in browsers. Windows Phone competes with Android, which is freely licensed, and iOS, which cost Apple realizes through research and development. Microsoft must match free with free, with the goal being to gain market share. Nothing is more important than grabbing share. Fast.
Ballmer should know from Windows' success, an incumbent platform isn't easily displaced. During the global transition to smartphones, Windows Phone could still make huge share gains. But the opportunity closes quickly and could be over as soon as next year's major handset release cycle.
Smartphone sales surged 38.3 percent during fourth quarter, to 207.7 million units, according to Gartner. Meanwhile, feature phone sales fell 19 percent to 264.4 million. Respective share in Q4: 44 percent and 56 percent. At this pace, smartphone sales should surpass feature phones within a couple quarters. Time is short.
2. Pay some manufacturers to license Windows Phone. You read that right. China is now the largest smartphone market, and sales growth is gangbusters. During fourth quarter, smartphones accounted for 73 percent of all handset shipments to China, up from 40 percent a year earlier, according to Canalys. Shipments soared 113 percent to 64.7 million units, or 30 percent of all smartphones globally.
Followed by leaders Samsung and Apple. three Chinese manufacturers -- Huawei, ZTE and Lenovo -- rounded out the top five, according to Canalys. So there are two overlapping trends: Rapid adoption of smartphones in the world's largest handset market and manufacturers there rapidly reaching the world stage. Android is the common denominator -- whether sales to China or by Chinese manufacturers.
Microsoft must woo both by every means, even if that means paying, perhaps with co-marketing dollars, for Chinese OEMs to license Windows Phone -- even preferred placement, but non-exclusive, over Android. Radical thinking is required, if Microsoft is to catch up.
3. Buy Nokia. I never expected to recommend this, but Microsoft and the Finnish phone maker are tightly-joined through their OS licensing deal. Marriage is the only sensible step left. Such a move would:
Spread the Microsoft brand across the globe fast, just like that Apple logo seen everywhere
Put Microsoft in control. The company can design compelling hardware and software, as Xbox and Surface show. Nokia's deep engineering skills are helluva foundation.
Meet market trends. Brands not operating systems matter to consumers, and there Apple and Samsung lead, with combined 52 percent smartphone sales share, according to Gartner. Google now sells Nexus phones and owns Motorola. Branded phones and supporting services are the future.
Channel conflict isn't much of a concern. Other than Nokia, what other manufacturer does anything for Windows Phone? For example, during Q4, Microsoft partner and global handset leader Samsung accounted "42.5 percent of the Android market globally", Gupta says, "and the next vendor at just 6 percent share".
Microsoft's success buying and leverage Skype shows that Nokia is possible, too.
4. Make video calling the future. If Microsoft doesn't, Apple, Facebook or Google will. Phone calls are passé. The success of services like SnapChat show just how much interest there is in immediate visuals. Skype Video Messages is a great start, alongside other existing video chat features.
The next big thing in phones should be video calling, and Skype has mature features and global reach to be the means on any platform. Microsoft can make the experience better by cutting deals with carriers for Windows Phone and through aggressive marketing demonstrating the benefits. Apple tried with FaceTime, but the service is restricted to iOS. Skype is everywhere and a huge globally recognized brand that can help raise Windows Phone's brand visibility.
5. Launch "Bing Me" service. Google Now and voice search are killer apps, and the best reasons to choose Android. Microsoft, which was a pioneer in so-called New User Interface technologies, let Google leap ahead. That needs to be fixed. Immediately. Microsoft has NUI assets and search capabilities to offer a compelling, competing service. Something else: The company has talked about search as answers to questions for a decade, but Google gives them instead and where they are needed most -- mobile. Microsoft needs a "Bing Me" service pronto, and it should be the Mobile Manhattan Project's first deliverable.
These are but a few suggestions to start, and don't go far enough, which would be something that truly transcends and redefines the category. Perhaps that's topic for a future post.