Overhauling a home network, Part 2 -- back to FreeNAS afterall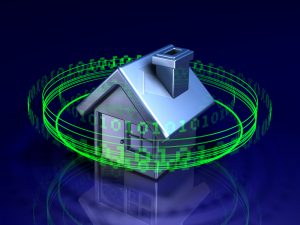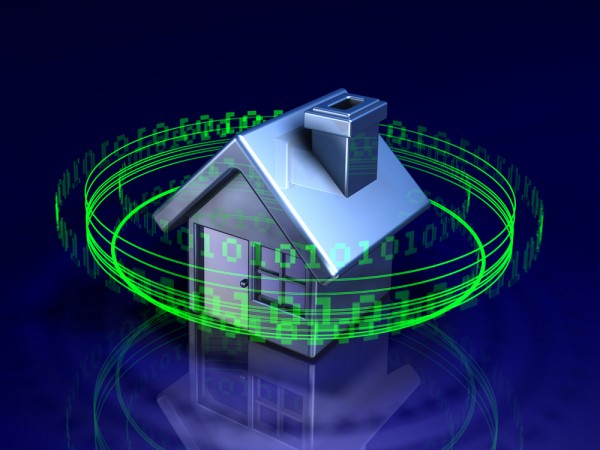 Let us get a bit geeky. This was not my original intention, but it is how things turned out in the end. First, I believe I misspoke twice in part one of this series -- one time was unintentional, the other was apparently my wishful thinking. The first was when I called my recent used server purchase a Dell Optiplex. It is actually a Dell Poweredge. The second involved my new operating system and I'll get to that in a second.
To begin with, the server was running Windows Server 2003 and the small business I purchased it from had failed to wipe the data, but did leave it password protected -- something a tool like Ophcrack may have been able to breach, though I had no desire to try. The server also contained a CD-ROM drive which I needed to replace with a DVD drive in order to install Windows Server 2012 Essentials. Fortunately I had one laying around -- yes, I know that is not normal. You should see our storage room. There are boxes of computer parts and a stack of old towers filling a corner. At least this time the "it will be useful someday" statement worked out for me.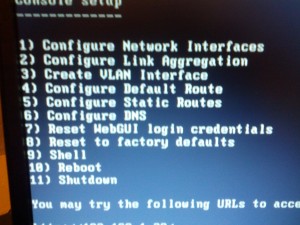 However, the 32-bit server architecture did not support 2012, meaning I moved on to Home Server -- that required 512 MB of RAM, and the server, woefully older than I had thought, only had 256 -- an easy upgrade, but expenses and wife-acceptance-factor for this project were mounting up.
In short, I went back to my old standby -- FreeNAS, which my last server ran. The operating system has improved quite a bit over the time since I last installed it. I knew there had been upgrades, but my system was set and working fine -- don't fix what is not broken. In fact, it has moved all the way to version 8.3.
I will not waste a lot of time here. FreeNAS has more than enough information to help you out and, surprisingly, Engadget did a very lengthy and helpful guide last year. Use those and you should have no problems.
I will point out a couple of things to pay attention to. First, make sure you change your password, which by default, is set to "password". You will also be spending a bit of time setting up your drives. If you can, choose ZFS over UFS because of storage restrictions. Remember that the drive on which FreeNAS is installed cannot be used for storage, so do not waste a multi-terabyte drive on a very small operating system.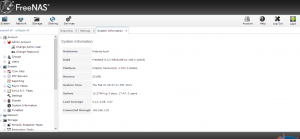 There are also some plugins that may interest you. Those can be found on the FreeNAS website. In fact, you can even hook up a network printer to the box, but it gets a bit complicated. Once volumes are configured and working then you are ready to start backing up and sharing files.
Backup and Sharing
There are a few ways to do this. When I last set up the OS I simply used SyncBack SE on each networked computer in order to backup a copy of all files automatically. There were likely other options, but it worked for me so I did not mess with it.
Rsync is built right into FreeNAS, but it requires a client app installed on each computer on your home network. As my colleague Joe Wilcox pointed out in the newsroom the other day, and I am paraphrasing here -- the simplest solution is usually the best.
That meant SynBack SE because it recognizes mapped drives. That is big because it means that it can be installed on one PC (the desktop in this case) and used to back up and sync all computers in the home.
What's Next?
In the process of doing all of this I stumbled across an MSDN post from Microsoft's Emmanuel Bergerat which detailed the over-the-top home server he had recently built. My new setup suddenly looked completely inadequate. Still, despite his statement that one of his requirements was "cheap", it is all relative. Maybe someday I will do something like that.
For now my future plans for this box are simply to purchase a four-bay external drive enclosure so that I can begin expanding the space one drive at a time. I also may add a KVM switch between the server and desktop, but that is really not a necessity given that FreeNAS can be shutdown or restarted right from the dashboard on any computer. Heck, there is even a couple of Android apps to control it.
The Microsoft solutions may be nice and have more features, but the bottom line here is that I simply want my files safely backed up and, for that, FreeNAS and SyncBack SE (both free) will meet my needs perfectly and even provide a few little extras to boot.
Photo Credits: Norebbo/Shutterstock