Microsoft fined $731m after a 'technical error' led to it breaking its EU antitrust promise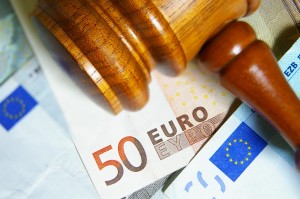 Wow. You don't mess with the EU antitrust regulators. This is something Microsoft has discovered to its cost after being landed with a 561 million euros ($731 million) fine for failing to promote a range of other browsers to Windows users in the European Union (EU).
As part of a settlement that followed an EU antitrust investigation back in 2009, Microsoft agreed to offer a Browser Choice Screen pop-up to European customers which would allow them to choose which browser they wanted to use -- rather than simply just forcing Internet Explorer on them. This followed an investigation triggered when Norwegian browser maker Opera complained that by bundling IE with Windows Microsoft was effectively killing the competition.
The screen, which first appeared in March 2010, provided logos and links for Firefox, Maxthon, Opera, Chrome, and Internet Explorer (presented in a random order). It was supposed to run until at least 2014, but the Windows 7 Service Pack 1 release in February 2011 removed the feature. It has since been reinstated, 14 months later, but that's not good enough for the EU watchdog.
"Legally binding commitments reached in antitrust decisions play a very important role in our enforcement policy because they allow for rapid solutions to competition problems," Joaquin Almunia, the Competition Commissioner said. "Of course, such decisions require strict compliance. A failure to comply is a very serious infringement that must be sanctioned accordingly".
As huge as the fine is, it could have been much, much worse for Microsoft. The EU antitrust regulators could theoretically have fined the Redmond, Wash.-based technology giant up to 10 percent of its global annual revenue. Which would have amounted to a staggering $7.4bn.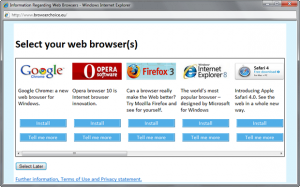 Of course the watchdog would never have actually done that -- it's not in anyone's interests to level that degree of fine on a major corporation -- but it's sobering to know the EU regulators actually have that degree of power.
The $731m figure was arrived at because Microsoft fully co-operated with the watchdog at every stage of the second investigation set up to determine what had happened.
"I hope this will make companies think twice before they ever think of breaching their international obligations," commissioner Almunia said in a statement. Or rather an understatement.
While Microsoft blames a "technical error" on the reason for the Browser Choice screen's disappearance, it's the fact that it remained MIA for 14 months that was the company's ultimate undoing.
In a statement released this morning, Microsoft said: "We take full responsibility for the technical error that caused this problem and have apologized for it. We provided the Commission with a complete and candid assessment of the situation, and we have taken steps to strengthen our software development and other processes to help avoid this mistake -- or anything similar -- in the future".
Photo Credit: zimmytws/Shutterstock