JAlbum 11 adds support for video clips alongside photos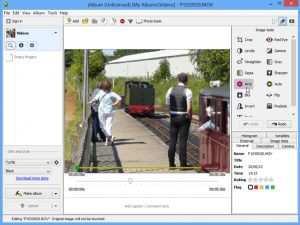 Web gallery creation tool JAlbum 11.0 has been released for Windows, Mac and Linux. Version 11.0 allows users to combine video with photos for the first time using the program. Features include support for over 160 video formats, tools for rotating and trimming clips, and preview image generation.
Version 11.0 also improves existing photo-editing tools, updates existing skins and includes a number of developer-friendly improvements, bug fixes and general tweaks.
The key new feature in JAlbum 11.0 is support for video clips in addition to existing support for photo. Clips can be imported from a wide variety of formats via drag-and-drop, and JAlbum is capable of automatically detecting and adjusting video orientation on import. Users can then double-click individual clips to edit them -- in addition to using the existing image tools on offer, videos can also be edited by trimming the start and end points. Users can also choose a preview image by using the slider beneath the video itself.
Video support can be enabled or disabled under Preferences, and users can configure which video formats are supported by the program via the Advanced tab. All videos are converted to MP4 format prior to uploading to the web for maximum compatibility, and all published albums containing movies are automatically tagged with "video".
Other changes to version 11.0 include the bundling of the Arty and AutoCorrection image tools with JAlbum itself. All images -- not just those imported directly from digital cameras -- can now be rotated too. There are also minor updates to the Turtle, Base, Mr.Burns and Lumen skins.
Developers gain a new API for unzipping and downloading, plus closeupPath for supported videos has been set to slide page, which enables embedded video. Also added are videoWidth and videoHeight variables, available when video support is enabled. A fileCategory variable introduces file category support, and the blur filter now accepts defined radius and strength.
Version 11.0 is rounded off by a number of bug fixes, new program icons and a new 128×128 web icon set. JAlbum 11.0 is a free-for-personal-use download for Windows, Mac and Linux. Published web albums are ad-supported -- users can purchase a license or JAlbum hosting account to remove these. Licenses start from €27 for non-commercial use -- a current saving of 30 per cent on the MSRP.