Flipboard 2.0 for iOS lets YOU create magazines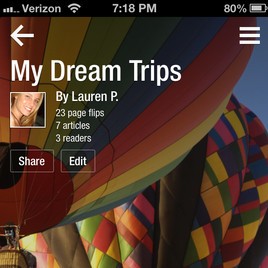 If you're a Flipboard user then you need to read this. On Wednesday, Flipboard 2.0 for iOS made its way onto the App Store bringing along important new features, changes and improvements, among which is the the ability to create magazines.
Users can "collect and save content" into their own magazines by tapping on the "+" button from any item in Flipboard. To fully personalize the experience, Flipboard 2.0 allows you to name the magazine, add a description and choose whether to let other users view it or keep the new creation private. As the company says, "now everyone can be a reader and an editor".
Flipboard users can create as many magazines as they want, according to the company, and pull items from any available source. That includes social networks like Instagram or LinkedIn, cloud music service SoundCloud and micro-blogging platform Tumblr, among others.
Flipboard 2.0 also allows users to take advantage of the new bookmarklet, which can be pulled from share.flipboard.com, in order to add items to the magazine straight from the browser, email or share magazines to various social networks including Facebook, Google+ or Twitter, personalize recommendations and receive notifications when others comment, like or subscribe to the user's own magazine.
The news aggregator app also touts improved search results, faster loading times and flipping performance.
Flipboard 2.0 is available to download from the App Store.