Google TV PrimeTime adds Amazon Prime, HBO GO and Netflix subscriptions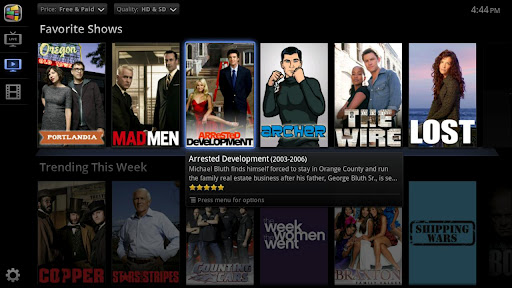 I love Amazon Prime. If I had a Kindle I would probably love it even more, if that were possible. Over the past two weeks I have also come to love my new Google TV, which has taken over our living room, with control of the DirecTV DVR and apps thrown in to boot. One of those apps is Amazon and I use it quite often, keeping a string of movies and TV shows in my watch list.
Now the Google PrimeTime app for Google TV has been updated to version 1.4.3-43-79424. This innocuous little name actually comes with a huge feature update. Not only has Amazon Prime content been rolled into the service, but you can control it and Netflix and HBO GO subscriptions from within the app as well.
With this update, Google PrimeTime is now a truly one-stop shop for pretty much all of your content. With Netflix, HBO GO, Amazon Prime, YouTube, cable or satellite box shows and a bunch of other services.
Google also added an update to its Play movies and TV app that mimics Amazon's X-Ray. Ben Serridge, the Product Manager for Google Play, says "when you're watching a film on your tablet, simply press pause and cards will pop up with information about actors on screen. You can tap on an actor's face to learn more about him, like his age, place of birth, his character in the movie, and his recent work, or scroll through the info cards to learn more about the movie or soundtrack. When you resume the movie, the cards will disappear".
While that update is currently only for mobile it seems a logical next step is to add it to Google TV as well. Google's foray into the living room started rather slowly as the Logitech Revue offering fell flat on its face, but remember that Android thing got off to a rather slow start as well.