It's about time! Microsoft's consumer cloud calendar gets a new Outlook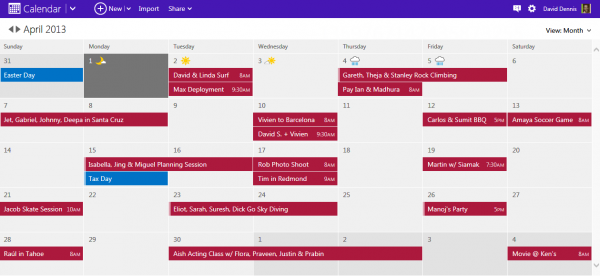 Windows Live Calendar (there's supposed to officially be "Hotmail" in there) is dead -- or soon will be. Today, Microsoft started rolling out the replacement for Outlook.com users. I've got the old one still, which is why the not-quite-lifeless-yet reference.
There's some kind of aspirational, Apple-like promotion going on here. "The Outlook.com calendar has been entirely redesigned with a modern, intuitive interface that puts you in control of your schedule", David Dennis, Microsoft's Outlook.com Calendar principal program manager lead, beams. Yeah, baby, put me in control. Gimme the mouse clicker.
But there's the disappointment of getting the old thing for some of us to contend with. "You can get started with any email address at Outlook.com Calendar as soon as your account is upgraded", Dennis explains. Hey, that's not me. You? This week, he promises everyone.
Seriously, if Dennis really wrote this whole post -- not PR Borg -- someone should promote him to writing all promotional copy for Office 365 and Outlook on the web. I count 29 uses of "you" and 21 of "your" in his blog post introduction. But it's more than numbers of "you" and "your" but how they're expressed to make, well, you feel empowered.
The subheads separating main text are great examples: "Across your modern smartphones and tablets"; "connected to what you care about"; and "you're in control of sharing with friends and family". The tone is clear: What the Outlook.com calendar will do for you. The best marketing convinces you that your life will be better for using product X, Y or Z.
Perhaps it will be -- as long as you aren't using an Android device. Dennis asserts that "connecting your calendar to your mobile device is easy". But is it satisfying?
Google and Microsoft are in this scuffle over ActiveSync, which the search giant dropped. So at Google's insistence, Microsoft agreed to adopt CalDAV, which Google then also dropped. As such, Android users wanting to sync Google and Outlook.com calendars are consigned to Hotmail Hell.
Outlook.com for Android is some popular app. Out of 5,659 reviews, 2,642 are one-star. PU. iPhone and Windows Phone users, you can stop laughing now.