Google Play 4 app rolls out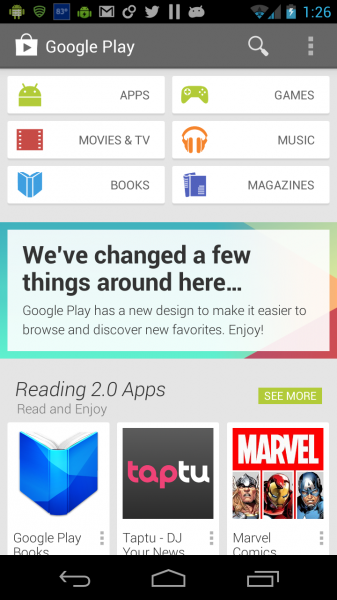 Late last week rumors surfaced that Google Play store would update, which according to the APK file is officially version 4.0.25, and sporting a whole new look. Today that news becomes official as Google confirmes that the latest version is beginning its slow, but steady, march to Android smartphones and tablets.
Michael Siliski, group product manager for Google Play, announces that "today we've started rolling out a redesigned Google Play store on Android phones and tablets that is simple, clean and, most importantly, helps you find great entertainment, fast".
The complete redesign of the app is focused on content, with larger images, similarly themed content grouped together, new recommendations and simplified purchasing, according to the announcement. Also in my quick look at the the new version, the My Apps page has also changed, with a brand new look. All of these updates are coming to any device that is running Android 2.2 (Froyo) or newer, so almost nobody should be left out. But, remember, while Google Play runs on most devices, the store displays apps your Android version supports.
No need to go rushing to your device yet because Google claims that people around the world will get the latest Google Play over the next few weeks, meaning this is a gradual roll out, though an APK file has already made its way out onto the Internet. So, if you just can't wait, and do not mind taking your chances, then very little snooping around is required to get the update today, as I have already done.