Malaysia deploys Google Apps and Chromebooks to as many as 10,000 schools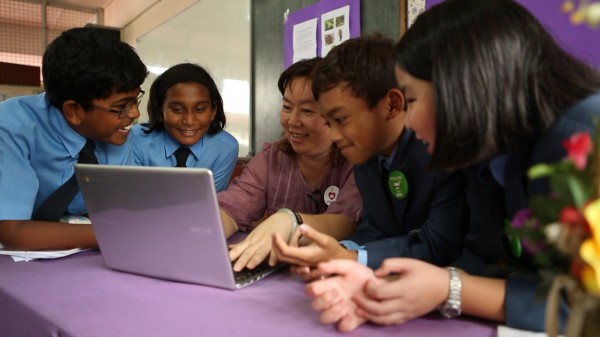 Many American schools may be gaga for iPads, but elsewhere Google Apps and Chromebooks' affordability are winning educators. Today, the search and information giant reveals that Malaysia will roll out Apps to "10 million students, teachers and parents", Felix Lin, director of product management, explains. "As part of this initiative they are also deploying Chromebooks to primary and secondary schools nationwide".
In the Malaysian Ministry of Education report, I don't see this number but reference to 10,000 schools and separate ones identifying "2.9 million students enrolled in primary school" and "2.3 million students enrolled in lower and upper secondary school". The current, official student tally from the Ministry's website is 5.23 million students. Including teachers and parents likely explains the larger number.
The technology adoption, which the country hasn't independently confirmed, is part of a 13-year long program to reform Malaysia's education system. The report outlining the initiative doesn't mention Google, Apps or Chromebooks. However, the report is from September and may be out of date.
"In the very near future, every student will have access to a 4G network at their school through 1BestariNet", according to the report. "This network will serve as the basis for the creation of a virtual learning platform that can be used by teachers, students and parents to share learning resources, run interactive lessons, and communicate virtually".
However, the country will deploy Acer and Samsung WiFi Chromebooks. Google would give no numbers, but I assume much less than the number for Apps.
That said, the twain are in some ways inseparable. IT specialist Derrick Wlodarz, who writes for BetaNews, asserts "that districts that have already invested in the Google Apps for Education path will naturally have the most seamless integration of Chromebooks". He identifies benefits to schools:
I personally like the proposition that the Chromebook makes. Just as the Surface potentially affords a school district simple management through Active Directory, Google's Chromebook takes this same notion and simplifies it a few degrees. Whereas a traditional IT department usually controls policies through Active Directory, a fleet of Chromebooks can be controlled by people with little technical background like teachers or even school execs...

When it comes to installation, Chromebooks require 69 percent less labor. And the biggest eye-opener for educational IT departments has to be the fact that Chromebooks require 92 percent less labor in long term support. With tightening school budgets, these are cost savings that are hard to laugh at.
"To date, more than 3,000 schools worldwide, from Edina, Minnesota to Port England, New Zealand, have deployed Chromebooks", Lin says. Malaysia could add 10,000 to the number.