Hey, Gmail users, Mailbox for iOS is now available, without reservation or waitlist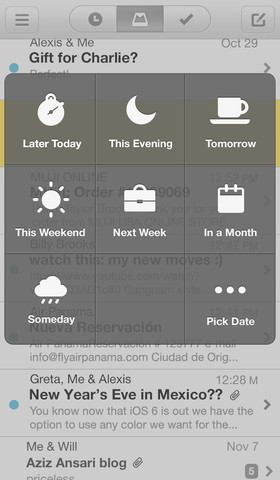 Gmail shows little sign of becoming any less popular, but any iOS user will find that dealing with a Gmail account on an Apple device is not the most pleasant experience. Mailbox was released to help address this fact and proved so popular that newcomers were greeted by a lengthy waiting list before they could get started. The app has now been updated in a number of key areas and, perhaps most importantly, anyone is free to jump right in and get started without the need to wait on a reservation list.
This is obviously great news for people who have been waiting to try out the app, but there is also plenty for existing users to take advantage of. One of the major standout features of the app from its inception was the way in which emails could be dealt with using little more than a swipe; swipe one way to delete or mark as read, and the other way to snooze.
The snooze feature has been enhanced in this latest release. Just as before it is possible to hide emails that you do not want to deal with immediately, but you are now able to deal with multiple messages simultaneously. The actual snoozing process has also been improved so that the options you are provided with are appropriate to the time of day and the day of the week.
Another noteworthy change means that when in the neat conversation view, you can view email addressed by double tapping a message bubble. The latest update includes all of the big fixes and performance improvements you would expect. Check out Mailbox and see if its unique snoozing option can help you to achieve inbox zero and better manage your messages.
You can find out more and download a copy of this free app from the Mailbox review page.