Why I love Nokia Lumia 920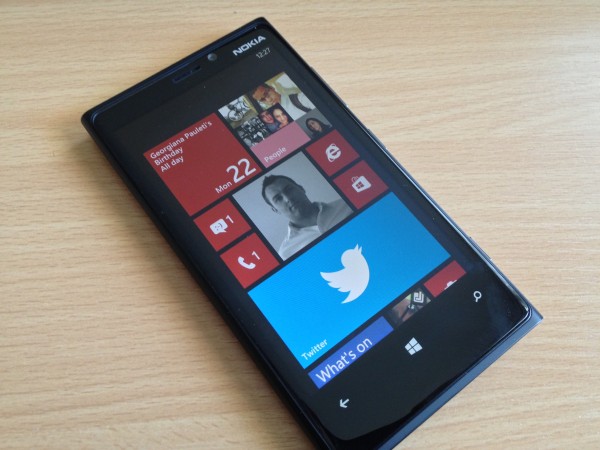 Fifth in a series. I'll admit it -- Nokia was a company I couldn't care less about a couple of years ago. I disliked the design, the high price and the bulkiness of its high-end smartphones, which then ran Symbian. At the time the Finnish manufacturer had the accelerator pedal mashed to the floor and was heading straight on a highway to oblivion, seemingly unwilling to steer the ship in the right direction. Android and iOS were the future and Symbian was the past. Then Nokia jumped ship to Windows Phone.
And that made a difference. As I embraced Windows Phone as my smartphone operating system of choice something happened. Nokia became interesting and appealing to me, so much so that I even bought a Lumia 920 little more than a month ago. And, to be honest, I'd never thought that one day I would own and love a Nokia smartphone. There's something about the Lumia 920 which feels right and makes the Finnish manufacturer fit perfectly into the Windows Phone picture.
No review could actually tell me that I'd end up loving the Lumia 920, mostly because no review actually tells me that I'd love any device. I have to experience the Lumia 920 to fully understand it and hold the smartphone in order to bond with it. I want my smartphones to be special, I want to connect with them and feel the emptiness left once they're not with me. The Lumia 920 ticks all those boxes.
Some say that it's too big and too bulky for a smartphone released in 2012 and especially so for one competing with flagships from 2013. At 10.7 mm in thickness and 185 grams the Lumia 920 certainly is not a featherweight, but more like a heavyweight boxer. It's big, powerful and has a punch that will knock you out. Just like the Lumia 920, the heavyweight boxer has character and as we well know having character also means having a couple of flaws. I just happen not to find them impeding in using the handset.
I've said this before and I will say it again -- Nokia really does bring something worthwhile to the Windows Phone table. The Lumia 920 runs Windows Phone 8 and, on top of the operating system and adjacent apps, comes with a very appealing list of exclusive apps. Nokia's HERE suite, comprised of HERE City Lens, HERE Drive+ Beta, HERE Maps and HERE Transit, is highly attractive when on the road and the other apps such as Nokia Music, Cinemagraph, Panorama and Smart Shoot, among others, make for a very rewarding user experience.
In a weekend getaway I tested the augmented reality (HERE City Lens), maps (HERE Maps) and navigation (HERE Drive+ Beta) apps to find my way around a new town. It resulted in a very pleasant experience, certainly not one far off from what Google provides on Android or iOS. Dare I say, the HERE suite is even more compelling overall than the search giant's offerings. I also made great use of the Smart Shoot lens which allows me to take a couple of pictures and select the best one. Sort of like burst shot mode, only with less possible results to choose from.
Happy Snapper
I continue to be impressed by the photo and video cameras. The former takes outstanding pictures in low-light conditions and excellent ones outdoors. Sure, there's room for improvement like delivering more consistent results and better autofocus for outdoor shots (shooting a cityscape troubles the autofocus) but I'm genuinely impressed by what Nokia delivers in its first PureView iteration on Windows Phone. The video camera makes great use of OIS (Optical Image Stabilization) when walking down trails in the woods, producing quality content that doesn't suffer from the effects of Parkinson's syndrome.
Before the Lumia 920 I dismissed wireless charging as being a tad (well, overly) gimmicky. I couldn't grasp how it can be better than plugging in the USB cable down the bottom of the smartphone, but now I wouldn't charge the Lumia 920 any other way. It's very pleasant not to have any sort of cable to look out for when handling the device at night or even searching for one under the desk (I have a very small desk, so I can't afford to have too much wires hanging around on it).
I also take great comfort in knowing that it just works -- lay the Lumia 920 on top and it charges. It's a comfort thing and one that I've grown to love and appreciate. On the other hand I have yet to appreciate the very sensitive display. I know that the ability to handle the Lumia 920 using gloves is a nice selling point for folks living in very cold climates, but based on my own experience that's not a feature that is as straightforward in practice as it is in theory.
The Lumia 920 is a slippery phone, even in the black matte finish that mine has. Using gloves would only add to the concern of dropping it, a fear which I constantly have to live with every day. I love it and I don't want to witness my smartphone's sudden death at my own clumsy hands. But hey, if it can at least potentially be used with gloves who am I to complain about having the option to do so? I'm sure some folks will make use of the feature come colder temperatures (again).
The true measure of any sort of device is the feeling that you get after it is no longer with you. For a couple of days I used a Lumia 820 review unit as my sole smartphone and, to be honest, I longed for the moment I could hold the Lumia 920 again and have it in my pants' pockets. I missed the feeling of sliding my fingers across its screen. That, I define as a love story.