Tumblr comes to Windows Phone 8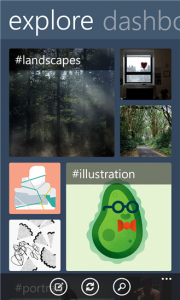 The measure of a platform's success is applications -- and, contrary to Apple marketing, not how many but which ones. Windows Phone 8 gets a lift today with the addition of Tumblr, natively developed rather than homegrown like Facebook.
I don't have Windows Phone to test the app, but based on information Microsoft provides, all the basics are there -- posting photos from the camera, for example. There is voice recognition for dictating posts and support for animated GIFs.
Social is key to any smartphone platform's success, and Tumblr is one Windows Phone needs. The service hosts more than 104 million blogs, has received 48.7 billion posts to date and in February had more than 26 million unique visitors, just behind Pinterest (26.97 million) and WordPress.com (27.96 million), according to comScore.
Full feature highlights, from Tumblr staff blog:
Find and follow the things you love
Share photos, gifs, video, quotes, chats, links, and text
Jump between your dashboard and Explore with just one swipe
Display the latest images from your dashboard on your lock screen and live tile
GIFs play as you scroll
Still, huge social holes remain, like Instagram. Given Microsoft's investment in and partnership with Facebook, an official app for the social network and photo-sharing service shouldn't be that hard to do -- and yet they're MIA. SnapChat, anyone? Not on Windows Phone.