At last! BBC iPlayer Radio app finally available on Android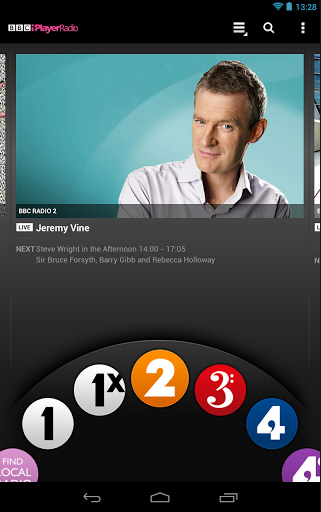 The BBC tends to favor iOS when it comes to mobile apps. The broadcaster isn't ignoring Android, it just takes a while to roll out apps for Google's mobile operating system, and often those apps, when they do arrive, aren't as slick or don't have all the features found in the iOS versions.
Case in point -- the Beeb debuted the iPlayer Radio app for iOS seven months ago, but it's taken until now for the Android version to appear on Google Play (it will also be available on Amazon's app store "very soon").
If you're not familiar with the app, it lets UK users tune into BBC radio stations live and catch up on radio broadcasts from the past seven days. It works over both Wi-Fi and mobile networks.
So finally, Android owners get to enjoy iPlayer Radio. As long as they don't have a Samsung Galaxy S III that is, because according to the BBC:
Some Samsung Galaxy S III users may find that audio playback does not work for them for live or on-demand programmes. This is due to a problem with a specific recent firmware version for this device. Devices purchased independently of your network operator should not be impacted. A firmware fix has been deployed by Samsung but may take some time to be rolled out across all networks. Podcast and video playback should not be affected.
Oh, and of course because the BBC only had an additional seven months to work on the Android app, on-demand and catch-up from local and regional stations is "not yet available".
The Android app does offer some improvements over the iOS version however. James Simcock, executive producer for mobile in BBC Radio, explains:
On iOS some content is tucked beneath the 'currently-playing content' area on the screen, revealed by swiping upwards to show a 'carousel'. However, on Android simply swiping horizontally will take you through all the content from the currently selected station.

Other differences between the Android and iOS versions of the app include the use of the notifications panel which appears at the top of the screen when you are elsewhere on your phone, making it easy to get back to the app.

There is also an alarm clock which works regardless of whether the app is active. Sharing programmes and tracks is also more 'open', using the extensive sharing functions of the Android platform to make programme URLs or artist and track names available to any application you have installed which can make use of such links.
Having tried it out myself, I can confirm the app is really good, very slick with a stylish radio tuner dial, and I've found the quality of the sound to be excellent so far. If you live in the UK, have an Android phone, and love music, you should download the app now.